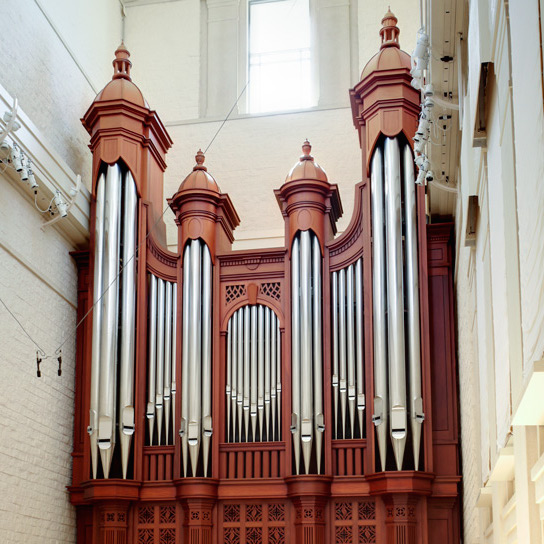 1997 Fisk-Rosales/Edythe Bates Old Recital Hall, Rice University, Houston, TX
First Things First
…we start the New Year with a survey of arresting, mostly-new music in world-premiere recordings.
Program Broadcast dates:
Week of December 31, 2018
Links and Resources:
Music played in the program
Hour 1
JEFFREY BRILLHART: Philadelphia Flourish (2017) –Daryl Robinson (2004 Glatter-Götz-Rosales/Walt Disney Concert Hall, Los Angeles, CA) Gothic 49315
HENRY MARTIN: Prelude & Fugue No. 7 in E –Isabelle Demers (1997 Fisk-Rosales/Edythe Bates Old Recital Hall, Rice University, Houston, TX) Pipedreams 1004
KENNETH LEIGHTON: These are thy wonders, Op. 84 –Nickey Spence, tenor; Stephen Farr (2001 Klais/Symphony Hall, Birmingham, England) Resonus 10178
JOSEPH CALLAERTS: Solemn Procession –Peter Van de Velde (1891 Schyven/Our Lady Cathedral, Antwerp, Belgium) Aeolus 11151
S. ANDREW LLOYD: Christe eleison, fr Christus –Choral Arts Fort Worth/Ryan Chatterton; S. Andrew Lloyd (1996 Garland/1st Presbyterian Church, Fort Worth, TX) Neumark 2017
RICHARD WETZ: Passacaglia and Fugue in d –Silvius von Kessel (1992 Schuke/St, Mary's Cathedral, Erfurt, Germany) Motette 12511
Hour 2
GARA GARAYEV: 4 Preludes (No. 14 in f#; No. 8 in F#; No. 22 in b-Flat; No. 20 in e-flat) –Jamila Javadova-Setzberg (1973 Marcussen/Laurenskerk, Rotterdam, Netherlands) DMP 64051
NICO MUHLY: Our present charter (for the 800th Anniversary of the the Magna Carta) –Temple Church Choir/Roger Mayer, director; Greg Morris (2013 Harrison/Temple Church, London) Signum 410
HANS-OLA ERICSSON: Vocalise, fr Song of Songs. ERICSSON: Postludium, fr Organ Mass –Lena Welman, flute; Hans-Ola Ericsson (2012 Woehl/Studio Acousticum, Piteå, Sweden) IFO Classics 7251
HENRY MARTIN: Prelude & Fugue No. 12 in e-flat –Stephen Tharp (1997 Fisk-Rosales/Edythe Bates Old Recital Hall, Rice University, Houston, TX) Pipedreams 1004

Continuing support of PIPEDREAMS is provided in memory of Wesley C. Dudley by his family, with additional support from Walter McCarthy, Clara Ueland, and the Greystone Foundation, by Jan Kirchner on behalf of her family foundation, by the Art and Martha Kaemmer Fund of the HRK Foundation, in celebration of the life of Martha Hulings Kaemmer, and by listener-contributors to this public radio station. Additional support comes from Integrated Organ Technologies, Inc. of Roswell, GA, and Kegg Pipe Organ Builders of Hartville, OH, members of APOBA, the Associated Pipe Organ Builders of America, a collaborative of designers, creators, and maintainers of pipe organs found in religious and educational institutions, concert halls, and residences throughout the United States and beyond. An APOBA resource guide and member prospectus is available at APOBA.COM.