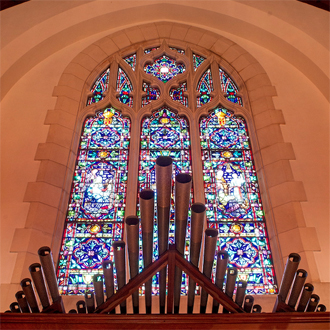 1952 Aeolian-Skinner/St. Luke's Methodist, Kilgore, TX
East Texas Treasures
…highlights from the previous year's East Texas Pipe Organ Festival as this year's festival prepares to launch.
Program Broadcast dates:
Links and Resources:
Music played in the program
Hour 1
ANNE WILSON: Toccata –Alan Morrison (1st Presbyterian, Kilgore)
JAMES BROOKS KUYKENDALL: Ceremonial March –Michael Shake (St. Luke's, Kilgore)
GEORGE DYSON: Magnificat –Cathedral Choir/Bryan Mitnaul, conductor; Joseph Henry, organist (St. Mark's, Shreveport)
CHARLES CALLAHAN: Prelude and Dance (premiere) –David Baskeyfield & Thomas Gaynor (1st Presbyterian, Kilgore)
PAUL HALLEY: Toccata Andromeda –Paul Halley (St. Mark's Cathedral, Shreveport)
CHARLES VILLIERS STANFORD: Fantasia on Engelberg, Op. 121, no. 1 –Mark Dwyer (1st Baptist, Longview)
HUGH McAMIS: Dreams. JOHN WEAVER: Variations on Sine nominee –Alan Morrison (1st Presbyterian, Kilgore)
Hour 2
MIGUEL PÉREZ: Danza de las Hachas. GUY BOVET: Tango a modo de Bossanova. JEAN LANGLAS: Double Fantasie, fr Mosaîque, Op. 190 –Jason Alden & Jeremy Tarrant (1st Baptist, Shreveport)
JEAN LANGLAIS: Cantilène, fr Suite Brève. CHARLES-MARIE WIDOR: Final, fr Organ Symphony No. 2, Op. 13 –Frederick Hohman (1st Presbyterian, Kilgore)
C-V STANFORD: Intermezzo on an Irish Air, Op. 189 –Jan Kraybill (1st Baptist, Longview)
DAVID HEGARTY: Appalachian Triptych –Jonathan Dimmock (St. Mark's, Shreveport)
ALEXANDRE GUILMANT: Final, fr Organ Sonata No. 1 in d, Op. 42 –Henry Webb (St. Luke's Methodist, Kilgore)
Performances were recorded by audio guru Peter Nothnagle between November 5-9, 2017 at 1st Presbyterian Church, Kilgore (1949 Aeolian-Skinner Op. 1173); St. Luke's United Methodist Church, Kilgore (1952 Aeolian-Skinner Op. 1175); 1st Baptist Church, Longview (1951 Aeolian-Skinner, Op 1174); St. Mark's Episcopal Cathedral, Shreveport (1954 Aeolian-Skinner, Op. 1308); and 1st Baptist Church, Shreveport (1963 Williams).
The next East Texas Pipe Organ Festival will be held from November 11-15, 2018. The public is invited!

PIPEDREAMS is supported by the generosity of Mr. & Mrs. Wesley C. Dudley, by grants from Walter McCarthy, Clara Ueland, and the Greystone Foundation, the Art and Martha Kaemmer Fund of the HRK Foundation, and Jan Kirchner on behalf of her family foundation. Additional support comes from Parkey Organ Builders of Duluth, GA, and Parsons Pipe Organ Builders of Canandaigua, NY, members of APOBA, the Associated Pipe Organ Builders of America, a collaborative of designers, creators, and maintainers of pipe organs found in religious and educational institutions, concert halls, and residences throughout the United States and beyond. An APOBA resource guide and member prospectus is available at APOBA.COM.