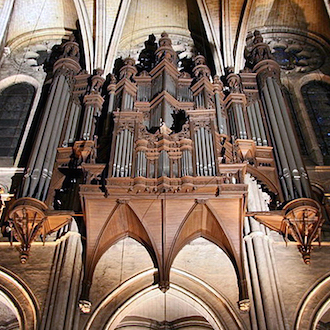 1971 Gonzalez/Chartres Cathedral, France
Out of Their Minds
…following a centuries-old tradition, today's organists create new music in the moment through artful improvisation.
Listen to the program
For the convenience of those of you with mobile devices, now you can listen to our PIPEDREAMS audio at http://www.yourclassical.org!
Program Broadcast dates:
Week of September 10, 2018
Links and Resources:
Music played in the program
Hour 1
STEPHEN LOHER: Fanfare Improvisation –Stephen Loher (1938-1962 Aeolian-Skinner/St. Paul's Chapel, Columbia University, New York, NY) Pipedreams 1001
SIETZE de VRIES: Improvisation, Eralt uns, Herr, bei deinem Wort –Noordelijk Vocaal Ensemble/Leendert Runia; Sietze de Vries (1962 Ahrend & Brunzema/St. Martini Church, Bremen, Germany) JSB Recordings 151017
KALEVI KIVINIEMI: Improvisation-Poem, Veni Creator –Kalevi Kiviniemi (1952 Weigle - 1999 Berner/ Matthäuskirche, Stuttgart, Germany) Lahti Festival 105
MATTHIAS MÜCK: Improvised Variations on Maria dich lieben –Matthias Mück (2005 Eule/St. Sebastian Cathedral, Magdeburg, Germany) Unda Maris 20391
JEAN GUILLOU: Improvisation on Student Themes –Jean Guillou (1992 Ruffatti/Spivey Hall, Clayton State University, Morrow, GA) Pipedreams Archive (r. 11/6/1992)
Filler – de VRIES
Hour 2
OLIVIER LATRY: Pink Panther –Olivier Latry (1981 Oberlinger/St. Joseph Church, Bonn-Beuel, Germany) Unda Maris 20011
TOM TRENNY: Improvisation Suite on Three Hymns (Conditor alme siderum; Eventide; Crucifer) –Tom Trenny (2003 Schantz/St. Peter's Episcopal Church, Savannah, GA) Pro Organo 7196
DOROTHY PAPADAKOS: Improvisation –Dorothy Papadakos (1954 Aeolian-Skinner/Cathedral of St. John the Divine, New York, NY) GOONY 100
PIERRE COCHEREAU: Improvised Introduction, Choral & Variations on an Original Theme (r. 1973) –Pierre Cochereau (1971 Gonzalez/Chartres Cathedral, France) Solstice 94/96
Filler – MÜCK
Johannes Zeinler was winner of the 2018 Grand Prix de Chartres Interpretation (and also the prize for the best performance of a required work by Thomas Lacôte, and the Audience Prize).

PIPEDREAMS is supported by the generosity of Mr. & Mrs. Wesley C. Dudley, by grants from Walter McCarthy, Clara Ueland, and the Greystone Foundation, the Art and Martha Kaemmer Fund of the HRK Foundation, and Jan Kirchner on behalf of her family foundation. Additional support comes from Goulding & Wood, Inc. of Indianapolis, IN, and Holtkamp Organ Company of Cleveland, OH, members of APOBA, the Associated Pipe Organ Builders of America, a collaborative of designers, creators, and maintainers of pipe organs found in religious and educational institutions, concert halls, and residences throughout the United States and beyond. An APOBA resource guide and member prospectus is available at APOBA.COM.