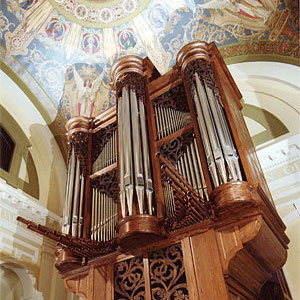 1987 Gabriel Kney/University of Saint Thomas, Saint Paul, MN
The Kney Players
…concert performances on the Gabriel Kney pipe organ at the University of St. Thomas in Saint Paul, MN.
Listen to the program
For the convenience of those of you with mobile devices, now you can listen to our PIPEDREAMS audio at http://www.yourclassical.org!
Program Broadcast dates:
Links and Resources:
Music played in the program
Hour 1
DIETERICH BUXTEHUDE: Praeludium in d, BuxWV 140 — Balint Karosi (r. 11/15/15)
HENRY HUGH BANCROFT: A Fancy. GASTON LITAIZE: Prélude et Danse Fuguée. LITAIZE: Prélude & Variations sur un noël Angevin, fr Douze Pièces —Michael Unger (r. 3/30/09)
HERBERT HOWELLS: Master Tallis' Testament. THIERRY ESCAICH: Evocation II —Clive Driskill-Smith (r. 4/3/16)
WILLIAM MATHIAS: Chorale & Recessional —John Scott (r. 4/14/08)
Filler: BUXTEHUDE (see above)
Hour 2
G. F. HANDEL (trans. Owolabi): Rinaldo Overture. J. S. BACH: Allein Gott in der Höh, BWV 676. PAMELA DECKER: Albarda, fr Flores del Desierto —Kola Owolabi (r. 9/24/17)
JAN PIETERSZOON SWEELINCK: Chromatic Fantasy —Joseph Adam (r. 2/27/06)
RACHEL LAURIN: 2 Short Pieces, Op. 43, nos. 3 & 5 (Intermezzo; Moto Perpetuo) —Rachel Laurin (r. 6/26/08)
NORD JOHNSON: Epic (1982). RACHEL LAURIN: Prelude & Fugue in f, Op. 45 (2007). FLOR PEETERS: Aria, Op. 51 (1945). RICHARD VOORHAAR: Thaxted Fancy (2004) —David P. Jenkins (r. 9/16/12)
Filler: MATHIAS Recessional (see above)
Between 1955 and his semi-retirement in 2006, Gabriel Kney and his co-workers build 129 pipe organs, the majority with mechanical-action, found throughout the United States and Canada. This one at the University of Saint Thomas is one of the best.

PIPEDREAMS is supported by the generosity of Mr. & Mrs. Wesley C. Dudley, by grants from Walter McCarthy, Clara Ueland, and the Greystone Foundation, the Art and Martha Kaemmer Fund of the HRK Foundation, and Jan Kirchner on behalf of her family foundation. Additional support comes from Solid State Organ Systems of Alexandria, VA, and Syndyne Corporation of Vancouver, WA, members of APOBA, the Associated Pipe Organ Builders of America, a collaborative of designers, creators, and maintainers of pipe organs found in religious and educational institutions, concert halls, and residences throughout the United States and beyond. An APOBA resource guide and member prospectus is available at APOBA.COM.