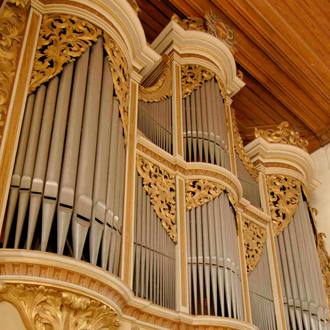 1721 Silbermann/St. George Church, Rötha, Germany
Bach, Abroad and At Home
…whether in his own country or in Switzerland, Japan or the USA, Bach's music thrills, unequivocally.
Listen to the program
For the convenience of those of you with mobile devices, now you can listen to our PIPEDREAMS audio at http://www.yourclassical.org!
Program Broadcast dates:
Links and Resources:
Music played in the program
Hour 1
BACH: Prelude & Fugue in G, BWV 541 –Karel Paukert (1971 Holtkamp/Cleveland Museum of Art, Cleveland, OH) Azica 71248
BACH: Fugue in g, BWV 578 –Tomoko Miyamoto (1989 Taylor & Boody/Ferris University, Yokohama, Japan) Loft 1057
BACH: 4 Passiontide Chorale-preludes, fr Orgelbüchlein (O Lamm Gottes, unschuldig, BWV 618; Christe, du Lamm Gottes, BWV 619; Hilf Gott, dass mir's gelinge, BWV 624; Wir danken dir, Herr Jesu Christ, BWV 623) –Swiss Radio Choir/Diego Fasolis, director; Francesco Cera (2009 Mascioni/Church of Santa Maria Assunta, Giubiasco, Switzerland) Brilliant Classics 90639
BACH: Prelude & Fugue in e, BWV 533 –James Kibbie (1755 Silbermann-Hildebbrandt/Hofkirche, Dresden, Germany) Block M 1
BACH: Partita, Christe, der du bist der helle Tag, BWV 766 –James Kibbie (1721 Silbermann/St. George Church, Rötha, Germany) Block M 2
BACH: 4 Chorale-preludes (Wer nur den lieben Gott, BWv 690/691; Liebster Jesu, wir sind hier, BWV 706; In dich hab ich gehoffet, Herr, BWV 712) –James Kibbie (1722 Silbermann/Marienkirche, Rötha, Germany) Block M 7
Hour 2
BACH: Prelude & Fugue in c, BWV 549 –George Ritchie (2003 Pasi/St. Cecilia Cathedral, Omaha, NE) Raven 740
BACH (trans. W.T. Best): Adagio & Fugue, fr Violin Sonata in C, BWV 1005 –Johannes Geffert (1928 Behmann/St. Martin Church, Dornbirn, Austria) Edition Lade 030
BACH: Trio Sonata No. 1 in E-flat, BWV 525 –Joan Lippincott (1995 Taylor & Boody/St. Thomas Church, New York, NY) Gothic 49116
BACH: Trio in c, BWV 21/1a; Passacaglia & Fugue in c, BWV 582 –James Kibbie (1724 Trost/Stadtkirche, Waltershausen, Germany) Block M
Dr. Kibbie's recording of Bach's complete organ works on historic German instruments can be accessed for free online listening or download through Block M Records, courtesy of the University of Michigan.

PIPEDREAMS is supported by the generosity of Mr. & Mrs. Wesley C. Dudley, by grants from Walter McCarthy, Clara Ueland, and the Greystone Foundation, the Art and Martha Kaemmer Fund of the HRK Foundation, and Jan Kirchner on behalf of her family foundation, and by listener-contributors to this public radio station. Additional support comes from Pasi Organ Builders, Inc. of Roy, WA, and Peterson Electro-Musical Products of Alsip, IL, members of APOBA, the Associated Pipe Organ Builders of America, a collaborative of designers, creators, and maintainers of pipe organs found in religious and educational institutions, concert halls, and residences throughout the United States and beyond. An APOBA resource guide and member prospectus is available at APOBA.COM.