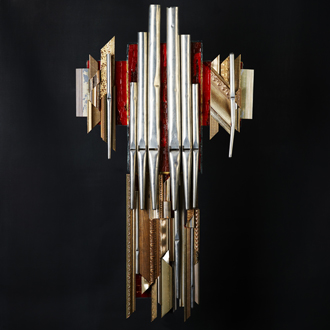 "Organ Cross" from The Freese Collection by Nall … click here for the full story behind the art that inspired Pamela Decker's evocative score.
Working Women
…in celebration of Women's History Month and International Women's Day (3/8/18), a collection of women composers and performers.
Listen to the program
For the convenience of those of you with mobile devices, now you can listen to our PIPEDREAMS audio at http://www.yourclassical.org!
Program Broadcast dates:
Links and Resources:
Music played in the program
Hour 1
ERZSÉBET SZÖNYI: Praeambulum, fr 6 Pieces –Frances Nobert (1998 Glatter-Götz & Rosales/United Church of Christ Congregational, Claremont, CA) Raven 550
RACHEL LAURIN: 3 Pieces, fr Op. 68 (Monologue for Solo Pedal; Flight of the Hummingbird; Dialogue of the Mockingbirds) –Rachel Laurin (1998 Casavant/1st Presbyterian Church, Rochester, MN) Pipedreams Archive (r. 11/19/17)
ANGELA KRAFT CROSS: Homage to Henri Nouwen - From the House of Fear to the House of Love (2008) –Angela Kraft Cross (2003 Dobson/Cathedral of Our Lady of the Angels, Los Angeles, CA) Compass Audio 7201
PAMELA DECKER: The Freese Collection (Augenmusik-Lirio e amapola-La croix de foi, three musical movements inspired by the work of Nall, the Artist) –Faythe Freese (2008 Alexander Schuke/Magdeburg Cathedral, Germany) Raven 948
Hour 2
JANETTE FISHELL: Psalm 139 –St. Paul's Church Choir/Janette Fishell, director; Colin Andrews (Allen/St. Paul's Episcopal Church, Greenville, NC) Pro Organo 2913
CHELSEA CHEN (arr.): Taiwanese Suite (Hills in the springtime; Moonlight Blue; Mountain of youth) –Chelsea Chen (2004 Garland/Bentwood Trail Presbyterian Church, Dallas, TX) Con Brio 21141
MARY BETH BENNETT: Chant Mystique –Susan Barrett, oboe d'amore; Alison Luedecke (1993 Ott/St. Brigid's Church, San Diego, CA) Pipedreams Archive (r. 7/8/2009)
ANN MILLIKAN: Preston Toccata –Raymond Johnston (2013 Foley-Baker/St. Mark's Cathedral, Minneapolis, MN) Pipedreams Archive (r. 9/23/17)
KRISTINA SHTEGMAN: Hymn from the Dark Side (Toccata) –Kristina Shtegman (1987 Grönlund/Jokkmokk Church, Sweden) Jokkmokks Församling 16-1
CHEN YI: Dunhuang Fantasy for Organ and Wind Ensemble –Singapore Symphony Orchestra/Lan Shui, conductor; Kimberly Marshall (1987 Klais/Victoria Concert Hall, Singapore) BIS 1352

PIPEDREAMS is supported by the generosity of Mr. & Mrs. Wesley C. Dudley, by grants from Walter McCarthy, Clara Ueland, and the Greystone Foundation, the Art and Martha Kaemmer Fund of the HRK Foundation, and Jan Kirchner on behalf of her family foundation. Additional support comes from Patrick J. Murphy & Associates, Inc. of Stowe, PA, and OSI, Total Pipe Organ Resources of Erie, PA, members of APOBA, the Associated Pipe Organ Builders of America, a collaborative of designers, creators, and maintainers of pipe organs found in religious and educational institutions, concert halls, and residences throughout the United States and beyond. An APOBA resource guide and member prospectus is available at APOBA.COM.