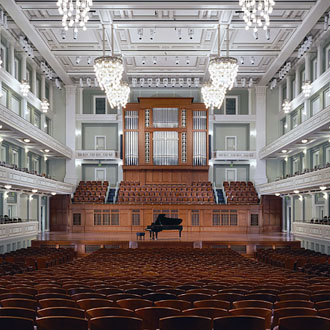 2007 Schoenstein/Schermerhorn Symphony Center, Nashville, TN
Organ And…
…a program of repertoire in which the pipe organ engages diverse instrumental colleagues in conversation.
Listen to the program
For the convenience of those of you with mobile devices, now you can listen to our PIPEDREAMS audio at http://www.yourclassical.org!
Program Broadcast dates:
Week of February 26, 2018
Links and Resources:
Music played in the program
Hour 1
G. F. HANDEL: Organ Concerto No. 5 in F, Op. 4, no. 5 –Vienna Concentus Musicus/Nikolaus Harnoncourt, director; Herbert Tachezi (unidentified portative organ) Warner Classics 69985
YUI KITAMURA (arr. Chen): Jasmine Fantasy. ZHANG CHIU-DONG SONG (arr. Chen): Rice Dumplings –Lewis Wong, violin; Jakarta Simfonia/Rebecca Tong, conductor; Chelsea Chen (2004 Garland/Brentwood Trail Presbyterian Church, Dallas, TX) Con Brio 21141
HOZAN YAMAMOTO: Midnight Cathedral –Hozan Yamamoto, shakuhachi; Wolfgang Mitterer (1983 Rieger/Marienkirche, Vienna, Austria) PlayaSound 65199
SAMUEL ADLER: Dialogue & Soliloquy, fr Clarion Calls –Keith Benjamin, trumpet; Melody Turnquist Steed (1981 Kney/Grace & Holy Trinity Cathedral, Kansas City, MO) Gothic 49127. Dr. Adler celebrates a 90th birthday (b. 3/4/1928)
GERALD BALES: Rhapsody for Organ and Small Orchestra –Allegro Sinfonia/Williams Stuber, conductor; Diana Lee Lucker (1998 Hendrickson/Wayzata Community Church, Wayzata, MN) Pipedreams Archive (4. 4/25/03)
Hour 2
DAVID CONTE: Antiphon for Brass and Organ –Rochester Philharmonic Brass/Stephen Kennedy, conductor; David Higgs (1855 Austin/St. Mary's Church, Rochester, NY) Arsis 159
JACOBUS KLOPPERS: Contemplation, fr Carolingian Temperaments (1994) –William Street, saxophone; Marnie Giesbrecht (1978 Brunzema-Savatant/Convocation Hall, University of Alberta, Edmonton, Canada) Eclectra 2076
ERNST SCHIFFMANN: Intermezzo, Op. 53 –Donald Pinson, trombone; Damin Spritzer (2014 Nichols & Simpson/St. Monica RC Church, Dallas, TX) Raven 994
J. L. KREBS: Es ist gewisslich an der Zeit –Hansjörg Schellenberger; oboe; Hedwig Bilgram (1991 Rieger/Parish Church, St. Gilgen, Austria) Denon 75081
OTTO OLSSON: Romance, Op. 24 –Gunilla von Bahr, flute; Hans Fagius (1975 Christensen/Härnösand Cathedral, Sweden) BIS 160
TERRY RILEY: Jazz Hall (i.), fr At the Royal Majestic –Nashville Symphony/Giancarlo Guerrero, conductor; Todd Wilson (2007 Schoenstein/Schermerhorn Symphony Center, Nashville, TN) Naxos 8.559739

PIPEDREAMS is supported by the generosity of Mr. & Mrs. Wesley C. Dudley, by grants from Walter McCarthy, Clara Ueland, and the Greystone Foundation, the Art and Martha Kaemmer Fund of the HRK Foundation, and Jan Kirchner on behalf of her family foundation. Additional support comes from Integrated Organ Systems of Rosewll, GA, and Muller Pipe Organ Company of Croton, OH, members of APOBA, the Associated Pipe Organ Builders of America, a collaborative of designers, creators, and maintainers of pipe organs found in religious and educational institutions, concert halls, and residences throughout the United States and beyond. An APOBA resource guide and member prospectus is available at APOBA.COM.