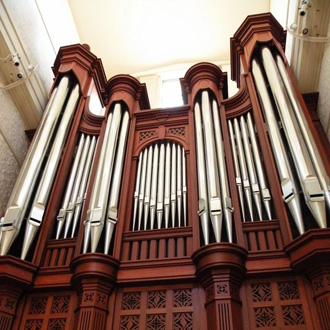 1993 Fisk-Rosales at Edith Bates Old Recital Hall, Rice University
Houston AGO 2016 (I)
…performances from the 2016 national convention of the American Guild of Organists in Houston, TX.
Listen to the program
For the convenience of those of you with mobile devices, now you can listen to our PIPEDREAMS audio at http://www.yourclassical.org!
Program Broadcast dates:
Week of February 19, 2018
Links and Resources:
Music played in the program
Hour 1
J. S. BACH: Fantasy in g, BWV 542 –Ludger Lohman (2009 Fritts/St. Philip Presbyterian Church)
ANTONIO VIVALDI (trans. Bellotti): Concerto in d, Op. 10, no. 2 –Eduardo Bellotti (1995 Noack/Christ the King Lutheran Church)
JOHN LaMONTAINE: Evensong. ZACH WADSWORTH: Earthquake –Houston Chamber Choir/Robert Simpson, director; Mary Preston (1981 Schantz/St. Paul's United Methodist Church)
GEORGE BAKER: Rhumba –Evan Baker, Brady Spitz & Steve Logan, percussion; Daryl Robinson (1993 Fisk-Rosales/Edith Bates Old Recital Hall, Rice University)
WILLIAM MATHIAS: Partita, Op. 19 –David Goode (2001 Wolff/Foundry United Methodist Church)
Hour 2
MARCEL DUPRÉ: Fileuse, Op. 19, no. 2. LUKE MAYERNIK: Reverie (Homage a Francis Poulenc). RACHEL LAURIN: Humoresque (Homage a Marcel Dupré), Op. 77 –Michael Jacobson, saxophone; Isabelle Demers (1993 Fisk-Rosales/Edith Bates Old Recital Hall, Rice University)
JOHN IRELAND: Greater love hath no man. GERRE HANCOCK: Judge Eternal –Choir of St. Thomas Church, New York City/Benjamin Sheen, director; Stephen Buzard (2010 Pasi/Co-Cathedral of the Sacred Heart)\
ADOLPHUS HAILSTORK: Lenten Morning Tears –Carol Rodland, viola; Catherine Rodland (1983 Noack/Episcopal Church of the Epiphany)
DAVID CHERWIEN: To God highest glory and praise. TRADITIONAL (arr. Cherwien): Praise to the Lord –St. Luke's Chancel Choir/David Cherwien (2001-2014 Schantz/St. Luke's United Methodist Church)
This is the first in a series of programs to be aired in coming months featuring performances recorded during the 2016 AGO National Convention in Houston, TX. Thanks to the Houston AGO Chapter and Ed Kelly of Mobile Masters Studio for providing audio (r. June 19-23, 2016). Check future PIPEDREAMS listings for subsequent installments. The 2018 AGO National Convention takes place in Kansas City, Missouri (July 1-6, 2018), and PIPEDREAMS will be featured there on July 5!



PIPEDREAMS is supported by the generosity of Mr. & Mrs. Wesley C. Dudley, by grants from Walter McCarthy, Clara Ueland, and the Greystone Foundation, the Art and Martha Kaemmer Fund of the HRK Foundation, and Jan Kirchner on behalf of her family foundation. Additional support comes from Kegg Pipe Organ Builders of Hartville, OH, and Letourneau Organs Limited of St. Hyacinthe, Quebec, members of APOBA, the Associated Pipe Organ Builders of America, a collaborative of designers, creators, and maintainers of pipe organs found in religious and educational institutions, concert halls, and residences throughout the United States and beyond. An APOBA resource guide and member prospectus is available at APOBA.COM.