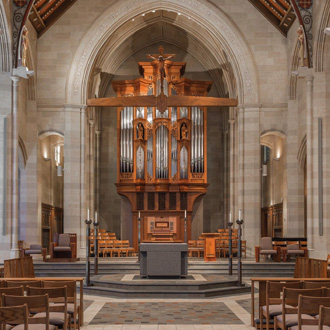 2008 Fritts at Sacred Heart Cathedral, Rochester, NY
The Eastman Kids at Sacred Heart Cathedral
…more exceptional student performances from a Pipedreams Live! weekend at the Eastman School in Rochester, New York.
Listen to the program
For the convenience of those of you with mobile devices, now you can listen to our PIPEDREAMS audio at http://www.yourclassical.org!
Program Broadcast dates:
Links and Resources:
Music played in the program
Hour 1
MAURICE DURUFLÉ: Variations on Veni Creator Spiritus –Chase Loomer. DIETERICH BUXTEHUDE: Magnificat primi toni, BuxWV 203 –Brian Schoettler. HERBERT HOWELLS: Psalm Prelude No. 1, Lo, the poor crieth, fr Op. 32 –Owen Reid. MARCEL DUPRÉ: Variations on a Noël, Op. 20 –Madeleine Woodworth. OLIVIER MESSIAEN: Dieu parmi nous, fr La Nativité du Seigneur –Meg Cutting (2008 Fritts/Sacred Heart Cathedral, Rochester, NY)
Hour 2
ALEXANDRE GUILMANT: Ecce panis, Op. 66 –Adelaide Boedecker, soprano; Thatcher Lyman, tenor; Molly Werts, violin; Kristina Finch, harp; Christ Church Schola/Stephen Kennedy, director; Joris Verdin (1885 Mustel harmonium) Loft 1126/7
ANTONI van MOORDT: Psalm 24 (3 verses) –Jacob Fuhrman. IVAN BOSNAR: Improvisation on Ave maris stella –Ivan Bosnar. ARVO PÄRT: Trivium –Käthe Wright Kaufman. JEANNE DEMESSIEUX: Te Deum, Op. 11 –Amanda Mole (2008 Fritts/Sacred Heart Cathedral, Rochester, NY)
Today's performances were recorded by public station WXXI-FM on April 23, 2016 during a weekend-long Pipedreams Live! event featuring students of the Eastman School of Music.
PIPEDREAMS is supported by the generosity of Mr. & Mrs. Wesley C. Dudley, by grants from Walter McCarthy, Clara Ueland, and the Greystone Foundation, the Art and Martha Kaemmer Fund of the HRK Foundation, Jan Kirchner on behalf of her family foundation, and by listener-contributors to this public radio station. Additional support comes from Paul Fritts & Company, Organ Builders of Tacoma, WA, and Garland Pipe Organs, Inc. of Fort Worth, TX, members of APOBA, the Associated Pipe Organ Builders of America, a collaborative of designers, creators, and maintainers of pipe organs found in religious and educational institutions, concert halls, and residences throughout the United States and beyond. A resource guide and member prospectus is available at APOBA.COM.