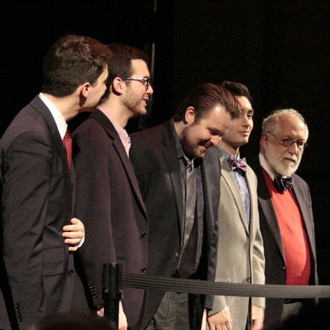 The Eastman Bunch at Auditorium Theater.
Pipedreams Live! at Rochester's Auditorium Theater
…featuring guest soloist Justin Lavlie and with Eastman faculty and students playing the Mighty Wurlitzer!
Listen to the program
For the convenience of those of you with mobile devices, now you can listen to our PIPEDREAMS audio at http://www.yourclassical.org!
Program Broadcast dates:
Links and Resources:
Music played in the program
Hour 1
GEORGE GERSHWIN: I got rhythm, fr Girl Crazy –Justin LaVoie
EDWARD ELGAR: Imperial March –Edward Dean
RICHARD RODGERS: Oklahoma Medley –Owen Reid
SERGEI RACHMANINOFF: Vocalise –Thomas Gaynor
COLE PORTER: Easy to love/It's de-lovely, fr Anything Goes –Nicholas Halbert
JEROME KERN: All the things you are, fr Very Warm for May–Chase Loomer
RODGERS: This can't be love, fr The Boys from Syracuse –William Porter
Hour 2
PORTER: Riding High, fr Red, Hot and Blue
GENE de PAUL: Spring, spring, spring, fr Seven Brides for Seven Brothers
VINCENT YOUMANS: Orchids in the moonlight , fr Flying down to Rio
GERSHWIN: How long has this been going on?, fr Funny Face
HARRY WARREN: Girl friend of the whirling dervish, fr Garden of the moon
GIOACHINO ROSSINI: The Barber of Seville Overture
ZEZ CONFREY: Kitten on the keys
This second hour is given over entirely to solos by Justin LaVoie, American Theatre Organ Society Young Artist Competition Winner in 2013. Performers in the first hour were students (or, in the case of Bill Porter, faculty) at the Eastman School of Music.
All performances highlight the 4-manual, 23-rank 1928 Wurlitzer organ as recorded on Sunday afternoon, April 24, 2016 by Zeitgeist Audio, Rochester, NY. Thanks to Paul Law and Russ Schaner of the Rochester Theatre Organ Society for keeping this marvelous instrument in such fine shape.
SPECIAL WEBSITE AUDIO EXTRAS: We invite you to share in Justin Lavoie's medley of Richard Rodgers tunes from Oklahoma and Professor Bill Porter's lovely rendition of Cole Porter's My Romance, each introduced by the performer.

PIPEDREAMS is supported by the generosity of Mr. & Mrs. Wesley C. Dudley, by grants from Walter McCarthy, Clara Ueland, and the Greystone Foundation, the Art and Martha Kaemmer Fund of the HRK Foundation, Jan Kirchner on behalf of her family foundation, and by listener-contributors to this public radio station. Additional support comes from Dobson Pipe Organ Builders of Lake City, IA, and Randall Dyer & Associates, Inc. of Jefferson City, TN, members of APOBA, the Associated Pipe Organ Builders of America, a collaborative of designers, creators, and maintainers of pipe organs found in religious and educational institutions, concert halls, and residences throughout the United States and beyond. A resource guide and member prospectus is available at APOBA.COM.