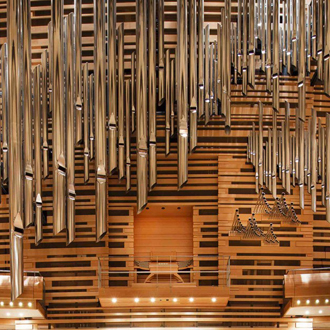 2014 Casavant at Maison Symphonique, Montreal, Quebec, Canada
Have You Not Heard?
…with so many composers for the organ, inevitably a few rather interesting items get lost in the shuffle!
Listen to the program
For the convenience of those of you with mobile devices, now you can listen to our PIPEDREAMS audio at http://www.yourclassical.org!
Program Broadcast dates:
Links and Resources:
Music played in the program
Hour 1
MAXIME GOULET: Citius, altius, forties! –Jean-Willy Kunz (2014 Casavant/Maison Symphonique, Montreal, Quebec, Canada) ATMA Classique 2-2747
JOHANN HELMICH ROMAN (trans. Vretblad): Sinfonia di Chiesa –John Kitchen (1897 Hope-Jones, 1953 Willis/McEwan Hall, University of Edinburgh, Scotland) Delphian 34163
QUENTIN MACLEAN: Parade of the Sunbeams. TREVOR DUNCAN: The Girl from Corsica. REGINALD PORTER-BROWN: Cheeky Chappie –Richard Hills (1937 Compton/Civic Center, Southampton, England) Street Music 0037
FERRUCCIO BUSONI: 3 Medieval Monologues (Danza-Cavaliere-Paggio) –Paolo Bottini (2004 Chici/Collegiata di Sant'Andrea, Empoli, Italy) Bongiovanni 5191
JOAN AMBROSIO DALZA: Pavana alla Venetiana. ASCANIO MAYONE: Ricercar Primo –Francesco di Lernia (historic instruments) DiG Classic 62
DANIEL KNAGGS: Ave Maria No. 9 (Rosa Mystica) –Shepherd Vocal Ensemble/Richard Robbins, director; Stephanie Handal, soprano, Felipe Gasper (1996 Fisk-Rosales/Shepherd School of Music, Rice University, Houston, TX) Ecce Records 2013
CARL CZERNY: 2 Short Voluntaries, fr Op. 698 (Nos. 3 & 5) –Iain Quinn (2000 Fritts/Princeton Theological Seminary, NJ) Naxos 8.573425
HANS-ANDRÉ STAMM: Rapsodia alla Latina –Christopher Herrick (2012 Metzler/Royal Abbey of Saint Mary, Poblet, Spain) Hyperion 68129
Hour 2
OLIVIER MESSIAEN: Offrande au Saint Sacrement (1928) –Colin Andrews (2010 Fisk/Auer Hall, Indiana University, Bloomington, IN) Loft 1148/9
AUGUSTA READ THOMAS: Angel Tears & Earth Prayers (2006)–Allen Harrington, saxophone; Lottie Enns-Braun (1993 Letourneau/Young United Church, Winnipeg, Manitoba, Canada) Ravello Records 7948
GIOVANNI SALVATORE: Kyrie Verses, fr Messe dell' Apostoli –Nova Schola Gregoriana/Alberto Turco, director; Federico Del Sordo (1678 Boccanera/Saint Peter-the-Martyr Church, Rieti, Italy) Brilliant Classics 95146
JOHN JOUBERT: 2 Preludes on Picardy (Op. 55 & Op. 125) –Tom Winpenny (1962-2009 Harrison/St. Alban's Abbey, England) Toccata Classics 0398
SIMON WHALLEY: Festal Paean –Sebastian Thomson (2011 Tickell/Keble College, Oxford, England) Convivium 30867
EDWIN LEMARE: Scherzo Fugue, Op. 102 –Gordon Stewart (1901 Brindley & Foster/City Hall, Pietermaritzburg, South Africa) Stewart 2007
EDWARD ELGAR: The Angel's Farewell, fr The Dream of Gerontius, Op. 38 –Sarah Rose Taylor, mezzo-soprano; Grace Cloutier, harp; Nigel Potts (2008 Schoenstein/Christ & St. Stephen's Church, New York, NY) MSR Classics1532
GARA GARAYEV (trans. Yagubova): Preludes (selected) –Jamila Javadova-Spitzberg (1973 Marcussen/St. Laurenskerk, Rotterdam) DMP Records 82557