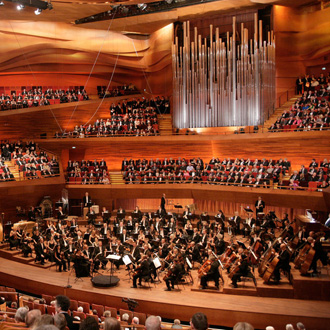 2009 van den Heuvel at the Danish Radio Concert Hall, Copenhagen, Denmark
Organ and Orchestra
…ever since Bach and Handel, this combination of instruments has continued to engage and excite.
Listen to the program
For the convenience of those of you with mobile devices, now you can listen to our PIPEDREAMS audio at http://www.yourclassical.org!
Program Broadcast dates:
Links and Resources:
Music played in the program
Hour 1
J.S. BACH: Sinfonia, Cantata No. 29 –Amsterdam Baroque Orchestra/Ton Koopman, director & organ (Klopp trunk organ) Challenge Classics 72230
G. F. HANDEL: Organ Concerto No. 12 in B-flat, Op. 7, no. 6 –Concerto Amsterdam/Jaap Schroeder, conductor; Daniel Chorzempa (1780 Künckel/St. Anne's Oude Katholicke Kerk, Haarlem, Netherlands) Pentatone Classics 5186-109.
JOSEPH JONGEN: Hymne, Op. 78 –Symphony in C/Rossen Milanov, conductor; Peter Conte (Wanamaker Organ, Macy's, Philadelphia, PA) Gothic 49293
JOHN WELLS: Organ Concerto No. 1 (1996) –Connecticut Virtuosi Chamber Orchestra/Adrian Sylveen, conductor; Woosug Kang (1972 Gress-Miles/South Congregational Church, New Britain, CT) Pipedreams Archive (. 5/8/2016)
Hour 2
PERCY GRAINGER: 2 Songs (The Power of Love; Lord Peter's Stable-boy), fr Danish Folksong Suite –Danish National Radio Orchestra/Richard Hickox, conductor (2009 van den Heuvel/Danish Radio Concert Hall, Copenhagen, Denmark) Chandos 9721
THOMAS TRACHSEL: Concertino for Organ and Symphonic Band (2009) –Saxon Wind Philharmonic/Thomas Clamor, conductor; Daniel Beilschmidt (1932 Jehmlich/St. Mary's Cathedral, Wurzen, Germany) Genuin 16445
THIERRY ESCAICH: Organ Concerto No. 1 (1995) –Liege Philharmonic Orchestra/Pascal Rophé, conductor; Olivier Latry (Cavaille-Coll/Notre Dame Cathedral, Paris) Accord 472-216