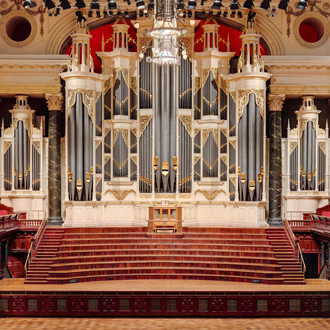 1890 Hill at Sydney Town Hall
An Australian Adventure
…a sampler of some of the sounds you'll enjoy when participating in the upcoming PIPEDREAMS Group Tour 'down under'.
Listen to the program
For the convenience of those of you with mobile devices, now you can listen to our PIPEDREAMS audio at http://www.yourclassical.org!
Program Broadcast dates:
Links and Resources:
Music played in the program
Hour 1
GERALD BALES: Petite Suite –Gordon Atkinson (1964 Fincham & Son/St. Patrick's Cathedral, Melbourne). LOUIS VIERNE: Communion, Op. 8 –Gordon Atkinson (1898 Fincham/St. Mary, Star-of-the-Sea, Melbourne). ROBERT SCHUMANN: BACH Fugue No. 2, fr Op. 60 –Gordon Atkinson (1999 Rieger/Scots' Presbyterian Church, Melbourne) Move 3333
FRANZ JOSEPH HAYDN (trans. Heywood): Trumpet Concert in E-flat (mvts. 2 & 3) –Thomas Heywood (1929 Hill, Norman & Beard-2001 Schantz/Melbourne Town Hall) Pro Organo 7141
LUIGI CHERUBINI: Sonata for Mechanical Organ –Robert Ampt (1890 Hill, Town Hall, Sydney) Priory 6012
MENDELSSOHN: Andante tranquillo, fr Sonata in A, Op. 65, no. 3 (1890 Hill/Hunter Baillie Presbyterian Church, Annandale). JOHANNES BRAHMS: O Welt, ich muss dich lassen, Opus 122, no. 11 (1890 Davidson/St. Paul's Anglican Church, Burwood). J.S. BACH: Fugue in b, BWV 544 –Michael Dudman (1891 Hill/Christ Church, St. Lawrence) Walsingham 8023
ROBERT AMPT: Waltzing Matilda Variations (duet for four feet) –Robert Ampt & Amy Johansen (1979 Sharp/Sydney Opera House) Move 3170
Hour 2
HERBERT MURRILL: Carillon –Peter Hurford (1979 Sharp/Sydney Opera House Concert Hall) London 425 013
BACH: 2 Chorale-preludes (Allein Gott in der Höh sei Ehr, BWV 711; Dies sind die heil'gen zehn Gebot',BWV 679) –Peter Hurford (1965 Sharp/Knox Grammar School, Wahroonga) London 421 341
ANN CARR-BOYD: The Bells of Sydney Harbour –David Kinsela (1979 Sharp/Sydney Opera House) Southern Cross 1022
DAVID DRURY: Improvisation on a Theme of Peter Sculthorpe –David Drury (1890 Hill/Town Hall, Sydney) ABC Classics 438 881
RAYMOND HANSON: Sonata –David Rumsey (1890 Hill/Town Hall, Sydney) ABC Classics 442 365
STANLEY VANN: 2 Pieces (Elegy; A Fancy for Tuba) –June Nixon (1891 Lewis/St. Paul's Anglican Cathedral, Melbourne) Walsingham 8002
DAVID DRURY: Improvisation –David Drury (1891 Lewis/St. Paul's Cathedral, Melbourne) ABC Classics 454 173
BARRIE CABENA: Paean on Lasst uns erfreuen, fr Sonata da Chiesa –Gordon Atkinson (Melbourne Town Hall) Move 3333
Check us out online for more details about this upcoming tour October 30-November 13, 2017 (including a special day in Los Angeles), and plan to register and join us.