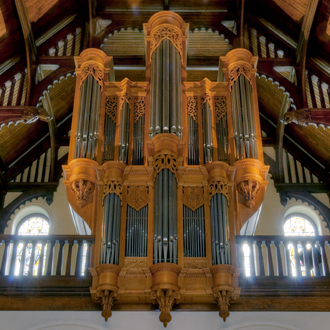 1981 Wolff at Redpath Hall, McGill University, Montreal
A Montreal Organ Festival
…a salute to Canada Day and the upcoming combined conventions of the Royal Canadian College of Organists and the American Guild of Organists.
Listen to the program
For the convenience of those of you with mobile devices, now you can listen to our PIPEDREAMS audio at http://www.yourclassical.org!
Program Broadcast dates:
Links and Resources:
Music played in the program
Hour 1
ANONYMOUS: Magnificat in C, fr Livre d'Orgue de Montréal –Kenneth Gilbert (1981 Wolff/Redpath Hall, McGill University, Montreal) Analekta 3002
HEALEY WILLAN: Prelude & Fugue in c –Patrick Wedd (1914-1995 Casavant/Church of St. John the Baptist, Montreal) Naxos 8.557375
RAYMOND DAVELUY: Fantasy & Fugue, fr Sonata No. 3 –Rachel Laurin (1960 Beckerath/St. Joseph Oratory, Montreal) CBC 1111
FRANÇOIS MOREL: Priere –Gerald Wheeler (1980 Wilhelm/Christ Church Cathedral, Montreal) Cathedral 130401
LOUIS VIERNE: Les Cloches de Hinckley, fr Pieces de Fantasie, Op. 55 –Hélene Dugal (1893-1951 Casavant/Notre Dame Basilica, Montreal) Sono-REM 11116
Hour 2
GIROLAMO FRESCOBALDI: Canzona L'Altera –Suzanne Deserres, dulzian; Genevieve Soly (1993 Wilhelm/Eglise Madonna della Difesa, Montreal) Analekta 3013
C.P.E. BACH: Adagio in d. GIUSEPPE GHERARDESCHI: 4 Concert Verses ---Catherine Todorovski (1993 Wilhelm/Eglise Madonna della Difesa, Montreal) ATMA 2110
ROBERT SCHUMANN: Canon in A-flat, Op. 56, no 4 –Christian Lane (2002 Casavant/Eglise des Saints-AngesGardiens, Lachine) ATMA 2674
FRANÇOIS COUPERIN: Offertoire, fr Messe a l'usage des Paroisses –Yves-G. Préfontaine (1991 Guilbault-Thérien/Grand Séminaire, Montreal) Helios 110603
GASTON LITAIZE: Liturgical Prelude No. 12 –Antoine Bouchard (1927 Casavant+1985 Guilbault-Therien/Notre Dame Basilica, Quebec City) REM 311128
ARTHUR LETONDAL: Prelude & Toccata, fr Trois Pieces –Jacques Boucher (1893-1951 Casavant/Notre Dame Basilica, Montreal) Basilique Notre Dame 007
OLIVIER MESSIAEN: God is simple, fr Trinity Meditations --David Palmer (1892-1950 Casavant/Marie-Reine-du-Mond Cathedral, Montreal) Ethereal 120
RACHEL LAURIN: Epilogue, Op. 50 –Rachel Laurin (1917-1988 Casavant/Church of St. Clement & St. Anne, Ottawa) Raven 943
The RCCO and AGO's NE Region meet together in Montreal, Quebec on July 1-7, 2017. Perhaps we'll see you there?