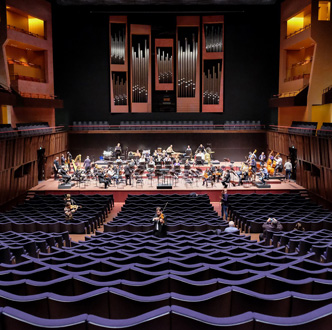 2005 Schuke-Berlin at the Philharmonie Luxembourg
Symphonic Surprises
…the combination of pipe organ with a full orchestral ensemble always provides for a scintillating sonic delight.
Listen to the program
For the convenience of those of you with mobile devices, now you can listen to our PIPEDREAMS audio at http://www.yourclassical.org!
Program Broadcast dates:
Links and Resources:
Music played in the program
Hour 1
SAMUEL BARBER: Toccata Festiva, Op. 36 –Orchestra of the Pfalztheater, Kaiserslautern/Uwe Sandner, conductor; Mario Schubiger, percussion; Felix Hell (1965 Oberlinger/Stiftskirche, Kaiserslautern, Germany) Perc.Pro 40072014
CARL RÜTTI: Concerto for Organ, Strings and Percussion; Tongues of Fire (organ solo) –State Philharmonic Chamber Orchestra of Novosibirsk/Rainer Held, conductor; Martin Heini (1996 Goll/St. Katarina Parish Church, Horw, Switzerland) Guild 7386.
Hour 2
MICHAEL COLINA: Sobre las Olas (Over the Waves) –Jacksonville Symphony/Fabio Mechetti, conductor; Felix Hell (1914 Casavant-2005 Quimby/Jacoby Symphony Hall, Jacksonville, FL) Pipedreams Archive (r. 10/12/12)
FRANZ LISZT (trans. Dupré): Fantasy & Fugue (Ad nos, ad salutarem undam) –Deutsche Radio Philharmonie Saarbrücken-Kaiserslautern/Martin Haselböck, conductor; Christian Schmitt (2005 Schuke-Berlin/Philharmonie Luxembourg) cpo 777472