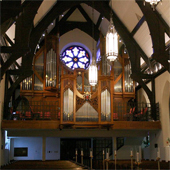 2001 Bigelow at St. Mark's Episcopal Cathedral, Salt Lake City, UT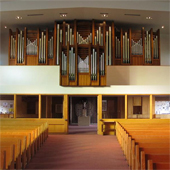 1967 Holtkamp–2013 Bigelow at St. Ambrose Catholic Church, Salt Lake City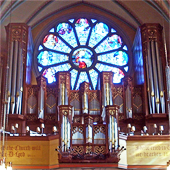 1992 Kenneth Jones at the Cathedral of the Madeleine, Salt Lake City
Salt Lake Celebration
…excerpts from inaugural concerts on new Utah-built Michael Bigelow pipe organs at St. Mark's Episcopal Cathedral and St. Ambrose Catholic Church.
Listen to the program
For the convenience of those of you with mobile devices, now you can listen to our PIPEDREAMS audio at http://www.yourclassical.org!
Program Broadcast dates:
Links and Resources:
Music played in the program
Hour 1
NICOLAUS BRUHNS: Praeludium in e –Julia Brown. CARL PIUTTE: Schmücke dich, o liebe Seele –Linda Margetts. ALICE JORDAN: Trumpet Tune in C –Bonnie Goodliffe (2001 Bigelow/St. Mark's Episcopal Cathedral, Salt Lake City, UT) Pipedreams Archive (r. 9/23/12)
DAVID N. JOHNSON: Trumpet Tune in A –Christopher Huntzinger. CLAY CHRISTIANSEN: Four Originals (Beautiful Savior; Lead kindly light; Scherzetto; Praise to the Lord) –Clay Christiansen (1967 Holtkamp–2013 Bigelow/St. Ambrose Catholic Church, Salt Lake City) Pipedreams Archive (r. 10/25/13)
WOLFGANG RÜBSAM: O Heiland, reiss die Himmel auf (2 verses) –Julia Brown. MAURICE DURUFLÉ: Variations on Veni Creator Spiritus –Richard Elliott (St. Mark's Cathedral)
HENRI MULET: Tu es petra, fr Byzantine Sketches –Clay Christiansen (St. Ambrose Church)
Hour 2
FLOR PEETERS: Ein feste Burg, Op. 69, no. 10; Aria –Linda Margetts. JOSEF RHEINBERGER: Scherzoso, fr Sonata No. 8, O. 132 –Andrew Unsworth. RAYMOND HAHN: Prelude on Eventide –Bonnie Goodliff. RICHARD WAGNER: Festival March, fr Tannhäuser –Richard Elliott (1992 Kenneth Jones/Cathedral of the Madeleine, Salt Lake City) Pipedreams Archive (r. 8/16/13)
DAVID CHAMBERLIN: 2 Voluntaries (Praise to the Lord; God of power, God of right). J. S. BACH: Kommst du nun, Jesu, BWV 650. EDVARD GRIEG (trans. Chamberlin): Holberg Suite (Praeludium; Sarabande; Rigaudon). CHAMBERLIN: Passacaglia on a theme by Robert Cundick (Easter Morn) –David Chamberlin (St. Ambrose Catholic Church)
A CD album featuring a Choral Vespers for the Blessing of the Organ at St. Ambrose Church, plus the inaugural recital by Clay Christiansen, is available from St. Ambrose Recordings (CD 1002).
Daily organ concerts continue on Temple Square at the Mormon Tabernacle, and the Eccles Organ Festival at Cathedral of Madeleine commences its five-concert 2015/2016 season on September 13.
Michael Barone converses further with organ builder Michael Bigelow regarding Bigelow's entry to and perspective on the profession.