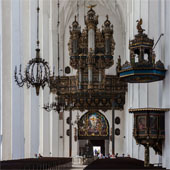 1985 Hillebrand at St. Mary's Church, Gdansk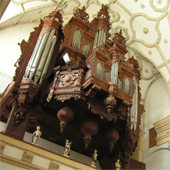 1620 Anonymous at Parish Church, Kazimierz Dolny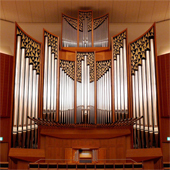 1997 Kern at Kitara Concert Hall, Sapporo, Japan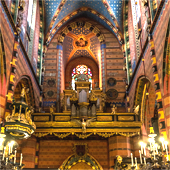 1986 Truszczynski at St. Mary's Basilica, Cracow
Polish(ed) Gems
…with focus on a further collection of compositions, instruments and performers from Poland.
Listen to the program
For the convenience of those of you with mobile devices, now you can listen to our PIPEDREAMS audio at http://www.yourclassical.org!
Program Broadcast dates:
Links and Resources:
Music played in the program
Hour 1
THEOPHIL VOLCKMAR: Sonata No. 4 in g –Jan Janca (1985 Hillebrand/St., Mary's Church, Gdansk) Dabringhaus & Grimm 319 0274
ANONYMOUS: 4 Pieces (Phantasies (2) primi toni; Susanna se videns rapi stupandam; Phantasia septimi toni), fr Gdansk Tabulature (1591) –Roman Perucki (1728 Hildebrandt/Holy Cross Church, Gdansk) DUX 0418
FREDERIC CHOPIN: Fugue in a –Charles Callahan (1946 Kilgen-2002 Wicks/Cathedral Basilica of Saint Louis, MO) Pro Organo 7232
ANONYMOUS: 2 Fugues and a Prelude, fr Daniel Croner Tabulature (1681) –Andrzej Bialko (1620 Anonymous/Parish Church, Kazimierz Dolny) DUX 0911
MIECZYSLAW SURZYNSKI: Chant triste, Op. 36b –Maria Magdalena Kaczor (1997 Kern/Kitara Concert Hall, Sapporo, Japan) SCH 015
JULIAN GEMBALSKI: 3 Improvisations (Chorale; Stained Glass; Song of Praise) –Julian Gembalski (1970 Kaminski/Frombork Cathedral) DUX 0413
Hour 2
PIERRE PINCEMAILLE: Improvisation on Dabrowski's Mazurka –Pierre Pincemaille (1912 Stahlhuth-2002 Jann/St. Martin's Church, Dudelange, Luxembourg) IFO Classics 418
DIETERICH BUXTEHUDE: Toccata in F, BuxWV 157 –Marek Stefanski (1986 Truszczynski/St. Mary's Basilica, Cracow) DUX 0225
MAREK STEFANSKI: Improvisation on The Cracow Bugle-Call –Marek Stefanski (1986 Truszczynski/St. Mary's Basilica, Cracow) DUX 0181
ANONYMOUS: 5 Pieces (Preambulum in F; Ave Jerarchia; Accede nuntia; Preambulum in d; Colenda), fr Jan of Lublin Tabulature (1540) –Joachim Grubich (1997 Schuke, Potsdam/Philharmonic Hall, Lublin) DUX 0442
MARIAN SAWA: Canzona (1990) –Jan Bokszczanin (Kaminski/Holy Apostles Church, Warsaw) APO 093
BOLESLAW WOYTOWICZ: Recitativo (1946) –Robert Murray, violin; Ardyth Lohuis (1951 Aeolian-Skinner/St. Stephen's Episcopal Church, Richmond, VA) Raven 370
ANONYMOUS: 3 Chorales (Seht das kleine; Lasst uns betrachten; Ein froher Tag), fr the Gdansk Song Book –Jan Janca (1679 Wolff/Peplin Cathedral choir organ). AUGUSTYN BLOCH: Adagio, fr Organ Sonata (1954) –Jan Janca (1845 Bucholz/Pelplin Cathedral). JAN JANCA: Toccata, Wachet auf! –Jan Janca (1977 Hammer/St. Nicholas Church, Gdansk) Dabringhaus & Grimm 319 0274
There's still time to sign up for the PIPEDREAMS spring tour of pipe organs in Poland!