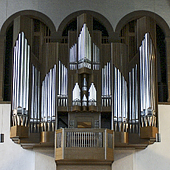 1996 Kuhn at the Mindener Dom, Germany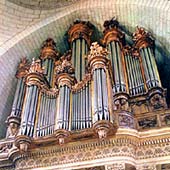 1965 Beuchet-Debierre at Cathédrale St. Peter, Angouleme, France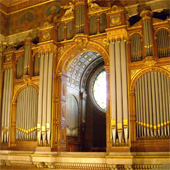 1852 Cavaillé-Coll at the Parisian church of Saint Vincent-de-Paul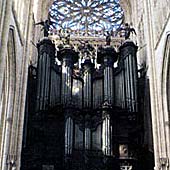 1890 Cavaillé-Coll at the Church of Saint Ouen in Rouen, France
Beyond Boëllmann
…to celebrate his sesquicentennial, we go beyond the famous Gothic Suite to reveal other facets of this intriguing French composer, Leon Boëllmann (1862-1897).
Program Broadcast dates:
Week of September 24, 2012
Links and Resources:
Music played in the program
Hour 1
LÉON BOËLLMANN: Toccata, fr Suite Gothique –Virgil Fox (1953 Aeolian-Skinner/Riverside Church, New York City) EMI 66386
BOËLLMANN: Sortie in C, fr Heures mystiques; 2 Esquisses –Helga Schauerte (1996 Kuhn/Minden Cathedral, Germany) Syrius 141374
BOËLLMANN: Suite No. 2 –Willibald Guggenmos (1898 Cavaillé-Coll/Santa Maria la Real, Azkoitia, Spain) Motette 11751
BOËLLMANN (trans. Ferey): Scenes du Moyen Age (Ronde de nuit; Veillée; Tournoi) –Jean-Pierre Ferey, piano; Frédéric Ledroit (1965 Beuchet-Debierre/St. Peter Cathedral, Angouleme, France) Skarbo 4078
BOËLLMANN: Carillon –Helga Schauerte (1996 Kuhn/Minden Cathedral, Germany) Syrius 141374
Hour 2
BOËLLMANN: Menuet Gothique (trans. Rogues) and Priere (trans. Boëllmann), fr Op. 25 –Oliver Gledhill, cello; Jeremy Filsell, piano. Guild 7135
BOËLLMANN (trans. Choisnel): Ronde Française, Op.37 –John Longhurst (1948 Aeolian-Skinner/Mormon Tabernacle, Salt Lake City, UT) Klavier 11069
BOËLLMANN: Fantasy in A-minor –Jacques Kauffmann (1860 Cavaillé-Coll/Eglise St-Etienne, Mulhouse, France) Skarbo 1967
BOËLLMANN: 3 Pieces, fr Heures Mysatiques, Op. 29 –Randolph Waller (1887 Hook & Hastings/Strawbridge United Methodist Church, Baltimore, MD) OHS 91
BOËLLMANN: Offertoire sur des Noëls –Robert Grogan (1964 Möller/National Shrine of the Immaculate Conception, Washington, DC) Gothic 49069
BOËLLMANN: Elevation, fr Heures Mystiques, Op. 29 –Jan Mulder (1890 Cavallé-Coll/St. Ouen, Rouen, France) Festivo 134
BOËLLMANN: Fantasie Dialoguée for Organ and Orchestra, Op. 35 –Ingolstadt Philharmonic/Olaf Koch, conductor; Franz Hauk (1977 Klais/Ingolstadt Cathedral, Germany) Guild 7215
With
Helga Schauerte
, editor of the new Bärenreiter publication of the complete organ works, we commemorate the 150th anniversary of the birth of
Leon Boëllmann
(9/25/1862 – 10/11/1897), titulaire of the
Cavaillé-Coll
instrument at the
Parisian church of Saint Vincent-de-Paul
, a talented, memorable, yet short-lived contributor to the late-romantic French organ art.