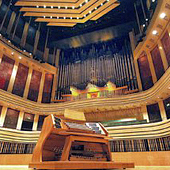 2006 Mühleisen in the Bela Bartok National Concert Hall, Budapest, Hungary
Concert Organs Abroad
…an audition of three intriguing recent installations in concert halls in Japan, Finland and Hungary.
Program Broadcast dates:
Week of November 10, 2008
Links and Resources:
Music played in the program
Part 1
MICHEL CHAPUIS: Improvisations in Classic French and Modern Free Styles on the Tonus Peregrinus, Magnificat 9th Tone, –Michel Chapuis (1993 Aubertin/Shirane-Cho Concert Hall, Yamanashi, Japan) Plenum Vox 009
Part 2
JEAN SIBELIUS: Intrada, Opus 111, number 1. CHARLES-MARIE WIDOR: Choral, from Organ Symphony Number 10, Opus 73, Romaine. ROBERT SCHUMANN: Fugue on B-A-C-H, Opus 60, number 1 –David Goode (2007 Grönlunds/Sibelius Concert Hall, Lahti, Finland) Pipedreams Archive recorded August 1, 2007
Part 3
BÁLINT KAROSI: Consonances, Concerto for Organ and Orchestra [2007] –Miskolc Symphony, Laszlo Kovacs, conductor; Bálint Karosi (2006 Mühleisen; Pécsi/Béla Bartók National Concert Hall, Palace of the arts, Budapest, Hungary) Pipedreams Archive recorded June 28, 2007
Filler –MICHEL CHAPUIS (see above)
Thanks to audio producer Tom Voegeli for his work in creating the special introduction to Balint Karosi's new Concerto. Also note that these three auditoriums represent the many new concert rooms worldwide where the presence of a pipe was considered essential to the overall function of the space. Hundreds of orchestral scores involve the pipe organ, and though organs are undeniably expensive, pound-for-pound they are a bargain compared with a violin by Stradivarius or Guarneri, and no one would ever suggest to Pinchas Zukerman that he play on an electronic substitute.