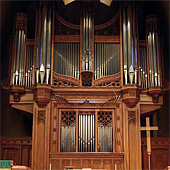 1980 Sipe organ at Hennepin Avenue UMC, Minneapolis, MN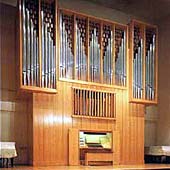 1969 Schuke organ in the Small Hall at Moscow Conservatory, Russia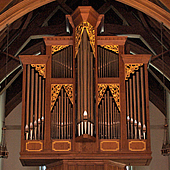 1979 C.B. Fisk organ at House of Hope Presbyterian, Saint Paul, MN
From Russia With Love
A centenary tribute to Dmitri Shostakovich [1906-1975], and recital performances by guest Daniel Zaretsky, who introduces little-known music from an unlikely source.
Listen to the program
Program Broadcast dates:
Week of September 18, 2006
David Zaretsky interview

Listen to all


Daniel Zaretsky talks about his early interest in pipe organs and the evolving situation regarding organs in Saint Petersburg


Audiences for organ recitals in Russia are remarkably large because relatively few pipe organs exist in Russia today, and because the organ is not a fixture either in Russia's traditional religious live or its former Soviet culture.


Zaretsky talks about the present situation with pipe organs Russian in performance spaces.


What does it mean to be Organist of the Saint Petersburg Philharmonic Hall…what are your duties?


What is the most popular piece of Russian organ music?


With new pipe organs coming to Russia today, are young composers showing a renewed interest in writing for these instruments?


Are there any indigenous Russian organ builders?


If you were offered one wish to improve the status of the pipe organ in Russia, for what would you wish?

Links and Resources:
Music played in the program
MICHAIL GLINKA: Fugue in E-flat. GREGORY CATOIRE: Praeludium in g. SERGEJ TANEYEV: Choral varie. CHRISTOPHOR KUSCHNAREV: Passacaglia –Daniel Zaretsky (1980 Sipe/Hennepin Avenue UMC, Minneapolis, MN) Pipedreams Archive recorded March 12, 2004
DIMITRI SHOSTAKOVICH: The Cathedral Service, from The Gadfly, Opus 97 –Iain Quinn (1854 Henry Willis; 1988 Harrison/Cathedral, Winchester, England, UK) Chandos CD-10043
DIMITRI SHOSTAKOVICH (transcribed by Anderson): Prelude & Fugue Number 20 in c, Opus 87 –Christopher Anderson (1979 C.B. Fisk/House of Hope Presbyterian, Saint Paul, MN) Pipedreams Archive recorded October 9, 2005
GEORGI MUSHEL: Toccata. GENNADI BELOV: Choral and Postludium. SERGEI PROKOFIEV: Delusion, Prelude, Opus 12, number 6; Fairy-Tale. ERNEST KÖHLER: Variations on the Old Russian National Anthem –Daniel Zaretsky (1980 Sipe/Hennepin Avenue UMC, Minneapolis, MN) Pipedreams Archive recorded March 12, 2004