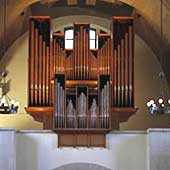 1958 Flentrop organ at Busch-Reisinger Museum, Harvard University, Cambridge, MA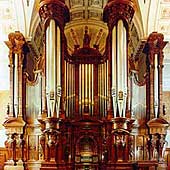 1862 Walcker; 1947 Aeolian-Skinner organ at Methuen Music Hall, Methuen, MA
E. Power to the People II
A continuing centennial tribute to one of the most influential and effective advocates for the pipe organ, the late, great Edward George Power Biggs March 29, 1906—March 10, 1977.
Listen to the program
Program Broadcast dates:
With the cheery, trend-setting sounds of his Flentrop organ at Harvard's Busch-Reisinger Museum, Biggs championed the 'classic' organ and its solo repertoire. But he also explored other music, including works with brasses, orchestras, choirs, and composers outside the classic canon. Details tba.
Links and Resources:
Music played in the program
J.S. BACH: Prelude in a, S. 543 (1958 Flentrop/Adolphus Busch Hall, Harvard University, Cambridge, MA) Sony Classical SBK 46551
GIOVANNI GABRIELI: Intonazioni decimo tono. GIROLAMO FRESCOBALDI: Canzon prima in GIOVANNI GABRIELI: Intonazioni duodecimo tono; Canzon per sonare Number 4 –Daniel Pinkham, harpsichord; Boston Brass Ensemble (1958 Flentrop/Adolphus Busch Hall, Harvard University, Cambridge, MA) Sony Classical MHK 62353
PADRE ANTONIO SOLER: Andantino, from Double Concerto Number 3 in G –Daniel Pinkham (1780 Hess chamber organ); E. Power Biggs (1958 Flentrop/Adolphus Busch Hall, Harvard University, Cambridge, MA) Columbia MS-6208/7174
PAUL HINDEMITH: Ruhig bewegt, from Organ Sonata Number 2 [1937] (1958 Flentrop/Adolphus Busch Hall, Harvard University, Cambridge, MA) Columbia MS-6234
PAUL HINDEMITH: Fugue, from Concerto for Organ and Chamber Orchestra, Opus 46, number –2 Columbia Chamber Orchestra, Richard Burgin, conductor (1950 Aeolian-Skinner/Symphony Hall, Boston, MA) Columbia ML-5199
JOSEF RHEINBERGER: Con moto, 3rd movement, from Concerto Number 1 in F, Opus 137 –Columbia Chamber Orchestra, Maurice Peress, conductor (1958 Möller/St. George Episcopal, New York, NY) Columbia M-32297
CÉSAR FRANCK: Piece héroïque (1958 Möller/St. George Episcopal, New York, NY) Sony Classical SK 60287
CHARLES-MARIE WIDOR: Lord, save thy people –Columbia Brass & Percussion Ensemble, Maurice Peress, conductor (1958 Möller/St. George Episcopal, New York, NY) Columbia M-31193
AARON COPLAND: Scherzo, from Symphony for Organ and Orchestra (1962 Aeolian-Skinner/Philharmonic Hall, Lincoln Center, New York, NY); New York Philharmonic, Leonard Bernstein, conductor; Sony Classical SMK 63155
DAVID MORITZ MICHAEL: Movements from The Instrumental Suites: Moderato; Waldhorn; Presto; Chorale (1804 Tannenberg/York Historical Society, York, PA) Columbia MS-6161
EDWARD MacDOWELL: A.D. 1620, from Sea Pieces, Opus 55, number 3. SCOTT JOPLIN: Marching Onward, from Treemonisha (1863 E.F. Walcker; 1947 Aeolian-Skinner/Methuen Music Hall, Methuen, MA) Columbia M-34129