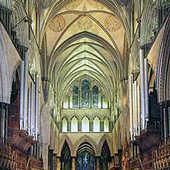 1876 Henry Willis organ at the Cathedral, Salisbury, England, UK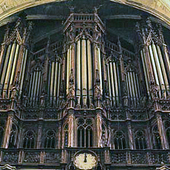 1841 Cavaillé-Coll organ at the Cathédrale Saint Denis, France
Prayers and Preludes
Music of the reluctant French virtuoso and pioneering genius, Charles-Valentin Alkan [1813-1888], composed originally for pedal piano, plays brilliantly on the pipe organ.
Considered by many to be the virtuosic equal of Franz Liszt, and also both friend and neighbor to Frederic Chopin, Alkan was a curious, reclusive figure on the mid-century Parisian scene. His numerous works, virtually all for piano, abound with digital challenges and provocative creative twists.
Alkan wrote both a four-movement symphony and a massive three-movement concerto, both for solo piano without orchestra. Later, another friend, Cesar Franck, dedicated his own pioneering solo organ symphony…the Grande Piece Symphonique…to Alkan. Franck also published organ editions of the pieces to be heard in the course of this program, which Alkan created for that 'dead-end' Romantic-era instrument, the pedal piano, a standard piano with an additional organ-like clavier for the feet. Alkan was particularly fascinated by this device, and even left money in his will to fund a pedal piano course at the Paris Conservatory.
Our broadcast includes a complete performance of Alkan's Thirteen Prayers, Opus 64, and selections from Eleven Grande Preludes, Opus 66 and the Little Preludes in the Eight Plainchant Modes [1859].

Program Broadcast dates:
•June 2, 1997 as Show #9722
•September 13, 2004 as Show #0437
Links and Resources:
Music played in the program
Thirteen Prayers, Opus 64; selections from 11 Grande Preludes, Opus 66; Little Preludes in the Eight Plainchant Modes [1859].
CHARLES-VALENTIN ALKAN: Pro Organo –Pierre Pincemaille (1841 Cavaillé-Coll/Basilique Saint-Denis, France) Solstice CD-116
CHARLES-VALENTIN ALKAN: Prelude Number 1 in F; Prayer Number 12 in F –John Wells (1898 Henry Willis/St. Matthews-in-the-City, Auckland, New Zealand) Ribbonwood CD-1001
CHARLES-VALENTIN ALKAN: 2 Little Preludes, Numbers 6 & 5; Prayer Number 5 in F; 2 Little Preludes, Numbers 7 & 8; Prayer Number 13 in G; Prayer Number 1 in g –Kevin Bowyer (1876 Henry Willis/Salisbury Cathedral, England, UK) Nimbus NI 5089
CHARLES-VALENTIN ALKAN: Prayer Number 8 in Bb –Kevin Bowyer (1876 Henry Willis/Salisbury Cathedral, England, UK) Nimbus NI 5089
CHARLES-VALENTIN ALKAN: Prayer Number 10 in Bb; Prelude Number 10 in bb; Prayer Number 4 in Bb –John Wells (1898 Henry Willis/St. Matthews-in-the-City, Auckland, New Zealand) Ribbonwood CD-1001
CHARLES-VALENTIN ALKAN: Prayer Number 2 in A –Pierre Pincemaille (1841 Cavaillé-Coll/Basilique Saint-Denis, France) Solstice CD-116
CHARLES-VALENTIN ALKAN: Prayer Number 9 in E –John Wells (1898 Henry Willis/St. Matthews-in-the-City, Auckland, New Zealand) Ribbonwood CD-1001
CHARLES-VALENTIN ALKAN: Little Prelude in e, Number 3; Prayer Number 3 in e; Little Prelude in e, Number 4; Prayer Number 11 in e; 2 Little Preludes in C & d, Numbers 2 & 1; Prayer Number 6 in D; Prayer Number 7 in C & a –Kevin Bowyer (1876 Henry Willis/Salisbury Cathedral, England, UK) Nimbus NI 5089
Filler –Prayer #3 (Bowyer)