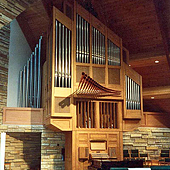 1999 Casavant organ at Incarnation Lutheran Church, Shoreview, MN
Tracker Backers
For hundreds of years, the pipe organ was played by mechanical action, with a direct and tangible link called a tracker between keyboard and wind chest. Late in the 19th century, electricity entered the scene and took over the roost for the better part of half a century. Electrity still is with us and has its place, but on this week's show we return to tradition and review some recent instruments from across the country. Each organ was built with that tried and true mechanical linkage that works well in antique repertoire, of course, but also in romantic and contemporary works, too.
Whether in a 19th century Bolero, a 20th century partita, or an 18th century concerto, modern mechanical action pipe organs maintain a time-honored tradition. With instruments in New Brunswick, New Jersey, Shoreview, Minnesota and Tacoma, Washington, we salute history and celebrate tomorrow in the company of our friends, the Tracker Backers.
Listen to the program
Program Broadcast dates:
Music played in the program
NICOLAUS BRUHNS: Praeludium in G. AART BERGWERFF: Advent Improvisation –Aart Bergwerff (2001 Richards, Fowkes/Christ Church, New Brunswick, NJ) Private recording.
ANTONIO VIVALDI/J.S. BACH: Concerto in d, S. 596 –Thomas Marshall (2002 Petty-Madden/First Presbyterian, Wolcott, NY) Fleur de Lis FL0201
PRINCE JOHANN ERNST (arranged by J.S. BACH): Concerto in G, S. 592. ANONYMOUS: Dances, from Robertsbridge Codex. CHARLES-MARIE WIDOR: Final, from Symphony Number 6 –Ann Elise Smoot (2000 Casavant Frères/Incarnation Lutheran, Shoreview, MN)
LOUIS-JAMES-ALFRED LEFÉBURE-WÉLY: Bolero de Concert, Opus 166 –Richard Heschke (1985 Jaeckel/Concordia College, Bronxville, NY) Eroica CD-3053
JAMES WOODMAN: Partita on Spanish Hymn –Mark Brombaugh (1979+1989 Brombaugh/Christ Church, Tacoma, WA) Private recording April 10, 1999
LOUIS VIERNE: Andantino, Opus 51, number 2. CHARLES TOURNEMIRE (transcribed by Maurice Duruflé): Improvisation on Te Deum –Robert Burns King (1999 Andover/University of North Carolina, Greensboro, NC)