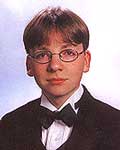 Felix Hell
Felicitous Felix
He took his first keyboard lesson at age seven, and only two years later won an important competition, made his international recital debut, and took on the duties of a church organist. Talk about precocious. On our next Pipedreams program, we visit with the talented young German phenom, Felix Hell, a student at the Curtis Institute in Philadelphia with three compact discs and more than 200 recitals to his credit in Europe, Russia, and the United States. Did we mention that he just turned 16?
We'll chat with Felix and his father Hans-Friedrich, listen to performances from 'the early years', and sample his current state-of-the-art in concert and on CD. And you thought that organ music was only for old folks? Audiences around the world are changing their mind when presented with the dynamic playing of Felix Hell. It's Felicitous Felix, this week on Pipedreams.
Listen to the program
Program Broadcast dates:
Links and Resources:
Already, Felix has performed more than 150 recitals in Germany, Iceland, Russia, and the United States. He spent last year in study with John Weaver at New York City's Juilliard School and this year moves to the Curtis Institute in Philadelphia. Find out more about him on his own Web site. Recital recordings were made during Felix's appearance at a Pipe Organ Encounter for high-school aged students, sponsored by the SE Minnesota Chapter of the American Guild of Organists.
Music played in the program
J.S. BACH: Chorale-prelude, Vom Himmel hoch, S. 700 (1986 Vier/St. Lawrence Church, Dirmstein, Germany) private recording
J.S. BACH: Toccata in C, S. 564 (1988 Kuhn/Justinuskirche, Frankfurt-Höchst, Germany) IFO 00 021
CHARLES-MARIE WIDOR: Toccata, from Symphony Number 5, Opus 42 (1954; 1990 Schantz/Basilica of the Sacred Heart, Newark, NJ) Organ CD ORG7010
J.S. BACH: Prelude & Fugue in D, S. 532 (1977 Klais/St. Peter Lutheran, New York, NY) Saint Peter's Church CD-200001
J.S. BACH: Fugue in D, S. 532 (1969 Aeolian-Skinner/Zumbro Lutheran, Rochester, MN) private recording
DAVID GERMAN: Festive Trumpet Tune in F (1954; 1990 Schantz/Basilica of the Sacred Heart, Newark, NJ) Organ CD ORG7010
J.S. BACH: Chorale-prelude, O Mensch, bewein dein Sünde gross, S. 622 (1954; 1990 Schantz/Basilica of the Sacred Heart, Newark, NJ) Organ CD ORG7010
ENJOTT SCHNEIDER: Toccata, Schlafes Bruder (1969 Aeolian-Skinner/Zumbro Lutheran, Rochester, MN)
JOSEF RHEINBERGER: Abendfriede (1977 Klais/St. Peter Lutheran, New York, NY)
FELIX MENDELSSOHN: Wedding March, from A Midsummer Night's Dream (1954; 1990 Schantz/Basilica of the Sacred Heart, Newark, NJ) Organ CD ORG7010
DIETERICH BUXTEHUDE: Praeludium in D, BuxWV 139 (1988 Kuhn/Justinuskirche, Frankfurt-Höchst, Germany)
JOSEPH JONGEN: Toccata (see above)