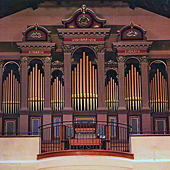 1998 Austin organ at Saint Mary's College Chapel in Moraga, CA
Dance, Everyone!
Some music just makes you want to tap your toes, and our next Pipedreams broadcast offers plenty of encouragement in that direction. From a Renaissance Basse Dance to modern Bolero, our collection explores that natural urge to move to music. You'll hear some of the popular hits of the early 16th century and before, a rock-and-roll waltz, the Saint Louis Blues Twist, a Ritual Fire Dance, and even a macabre revel of spooks and goblins. Our instruments run the gamut from a tiny medieval-style organetto, to sassy theatre organs in Chicago, Oakland, and Hollywood, and a fine new installation at Saint Mary's College in Moraga, California.
Just try to keep from moving. We'll explore the extremities of tonal variety and rhythmic energy in music that urges "Dance, Everyone!" this week on Pipedreams.
Listen to the program
Program Broadcast dates:
Music played in the program
CLAUDE GERVAISE: Bransle de Champagne/Bransle de Bourgogne. PIERRE ATTAINGNANT: Danses et Chansons –André Isoir (1970 Koenig/Good Shepherd Church, Angers, France) Calliope CD-9901
ANONYMOUS Spain, 17th Century: Espagoleta. J.S. BACH: Fuga alla giga in G, S. 577 –Margaret Phillips (1993 Collins/Oakham School Chapel, England, UK) Regent 14
PIERRE COCHEREAU: Bolero for Organ and Percussion –Jürgen Linden, percussion; Yves Castagnet (1981 Oberlinger/St. Joseph Church, Bonn-Beuel, Germany) Unda Maris UM-20011
JEROME KERN: The Waltz in Swingtime –George Wright (Wurlitzer) Banda CD-309861
SHORTY ALLEN: The Rock-and-Roll Waltz –George Wright (Hollywood Philharmonic Organ/George Wright Residence, Hollywood, CA) Banda CD-438
JOHN SENG: The Saint Louis Blues Twist –John Seng (Wurlitzer/Mundelein Auditorium, University of St. Mary, Mundelein, IL) P&P Productions 051193
JOSEPH A. BURKE: I'm dancing with tears in my eyes –Jim Riggs (1929 Wurlitzer/Oakland Paramount, CA) Melody Masters CD-107
EDUARD POLDINI: Dancing Doll –Jonas Nordwall (Wurlitzer/Organ Grinder Pizza, Portland, OR) Organ Grinder CD-10
RUDOLF FRIML: Veil Dance. MANUEL de FALLA: Ritual Fire Dance –Lyn Larsen (1927 Wurlitzer/Place de la Musique, Sanfilippo Residence, Barrington, IL) Musical Contrasts CD-207
ANONYMOUS: Estampida de maia. FRANCESCO LANDINI: 2 Chansons: Donna, perche me spregi; Amor cal tuo sogetto ognor mi trovo –Thierry Gomar, percussion; Christophe Deslignes (1995 Johannes Rohlf organetto) Ricercare 206662
CAMILLE SAINT-SAËNS (transcribed by Edwin H. Lemare): Danse Macabre –Ken Cowan (1998 Austin/St. Mary College Chapel, Moraga, CA) Austin Organs CD-101
CHARLES GOUNOD: Vivace, Tarantella, from Suite Concertante –Ingolstadt Philharmonic, Alfredo Ibarra, conductor; Franz Hauk (1977 Klais/Ingolstadt Münster, Germany) Guild GMCD 7185