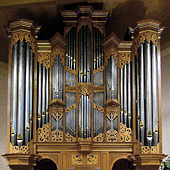 Anton Heiller Memorial Organ in the Seventh-day Adventists Church on the campus of Southern Adventist University, Collegedale, TN.
Sounds of Today
…Leonard Raver plays premieres of prize-winning works from the Southern College International Composition Competition, celebrating the inauguration of the new 70-stop Anton Heiller Memorial Organ, built by John Brombaugh on the campus in Collegedale, Tennessee.
Program Broadcast dates:
Week of November 24, 1986
Links and Resources:
Interview Audio:
Music played in the program
Part 1
LOUIS MARCHAND: Grand Dialogue in C
HAROLD STOVER: Triptych on the Name of Bach: Dance - Let the floods clap their hands; Blues - By the waters of Babylon; Hymn - There is a river…
Part 2
DAVID LOEB: Heavensgate, A Meditation for Solo Organ
Part 3
NAJI HAKIM: The Embrace of Fire
This broadcast includes interviews with Harold Stover, Leonard Raver and Naji Hakim, as well as on-stage commentary by Mr. Raver, whose irrepressible smile is audible when he speaks!