Benjamin Sheen (Pierre S. duPont First Prize winner)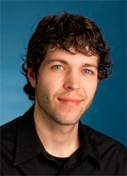 Adam Pajan (Firmin Swinnen Second Prize winner)


Baptiste-Florian Marle-Ouvrard (Clarence Snyder Third Prize winner)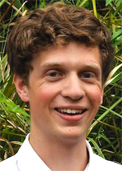 Thomas Gaynor (finalist)


Jinhee Kim (finalist)


Daria Burlak (semi-finalist)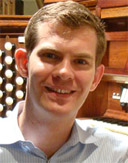 James Kennerley (semi-finalist)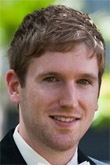 Yuri McCoy (semi-finalist)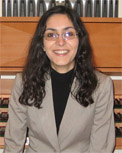 Silviya Mateva (semi-finalist)


Matthieu Latreille (semi-finalist)
2013 Longwood Gardens International Organ Competition
…An unprecedented event featuring Longwood's 10,010-pipe Aeolian organ, a panel of distinguished judges, and live performances by the world's top young organists. Winner receives world's largest organ competition prize, $40,000.
Meet the Prize Winners!
Benjamin Sheen (Pierre S. duPont First Prize winner): The youngest finalist at 23, Benjamin is from London, UK, and is a first-year master's student at The Juilliard School in New York, studying with Paul Jacobs. Having recently graduated from Oxford University with a first-class honors degree in music.
Adam Pajan (Firmin Swinnen Second Prize winner): A native of Monroeville, PA, Adam is beginning his doctoral work at the University of Oklahoma's American Organ Institute as a graduate assistant and Fellow of the Graduate College. He recently completed his Master of Music in Organ Performance and Certificate in Church Music Studies at the Yale University School of Music and Institute of Sacred Music.
Baptiste-Florian Marle-Ouvrard (Clarence Snyder Third Prize winner): Baptiste-Florian began studying piano in France at age four. He later studied organ, conducting, composition, and improvisation at the National Superior Conservatory of Music and Dance in Paris where he graduated with honors. His principal teachers included Olivier Latry, Thierry Escaich, Pierre Pincemaille, Jean-François Zygel, and François-Xavier Roth. Baptiste-Florian is also an avid airplane pilot.
Meet the Other Finalists!
Thomas Gaynor: Born in Wellington, New Zealand, Thomas began his musical studies at age 10 with piano lessons, moving to the organ at 13. In 2004, he began an organ scholarship at St. Paul's Cathedral in Wellington that lasted for seven years until he was awarded the title of honorary sub-organist. He completed his undergraduate studies in organ performance at the New Zealand School of Music under the tutelage of Douglas Mews. He then moved to Rochester, NY, to earn his master's in organ performance and literature at the Eastman School of Music, studying with David Higgs.
Jinhee Kim: Born in Seoul, South Korea, Jinhee studied organ with Tong-Soon Kwak at Yonsei University in Seoul, where she graduated with highest honors, and was the recipient of both the university-designated scholarship and the Yonsei Alumni Scholarship. While there, she attended master classes taught by Ludger Lohmann, Wolfgang Zerer, and Christoph Bossert, among others, and appeared on the Rising Stars Concert Series.
Meet the Semi-finalists!
Daria Burlak: She was born in Vladivostok, Russia, and began studying piano in Moscow at age five. She studied at the Moscow Central Music School, the Moscow Tchaikovsky Conservatory, and the Cologne University of Music, receiving degrees with distinction as both a concert organist and pianist. She also loves heavy metal music.
James Kennerley: A native of the UK, is an organist, conductor, singer, coach, and educator. Since 2008, Kennerley has been organist and music director at the Church of Saint Mary the Virgin in New York City. He began his musical career as a chorister of Chelmsford Cathedral and attended Harrow School and Cambridge University, where he was an organ scholar at Jesus College. Kennerley also holds the Fellowship of the Royal College of Organists diploma.
Yuri McCoy: From Huntington, WV, Yuri is a first-year graduate student at the Shepherd School of Music at Rice University where he studies with Kenneth Cowan. He is also director of music at Holy Comforter Episcopal Church in Angleton, TX. He is an avid soba noodle maker.
Silviya Mateva: A native of Plovdiv, Bulgaria, Silviya started studying piano at age seven and began her organ studies at 16. She is currently enrolled in the University of Oklahoma's doctoral program and studies with John Schwandt. In addition to serving as a teaching assistant in music theory at the School of Music, she is the organist and choir director at Trinity Lutheran Church in Norman, OK. Mateva holds a Bachelor of Music in organ performance (summa cum laude) from Stetson University and a Master of Music in organ performance and literature from the Eastman School of Music.
Matthieu Latreille: Hailing from Quebec, Canada, Matthieu earned a degree from the Gatineau Conservatory of Music before entering the organ class at the Montreal Conservatory in September 2005. A student of Jean Le Buis, he graduated with high honors in 2007. His post-graduate work, also at the Montreal Conservatory, focused on the music of Duruflé.