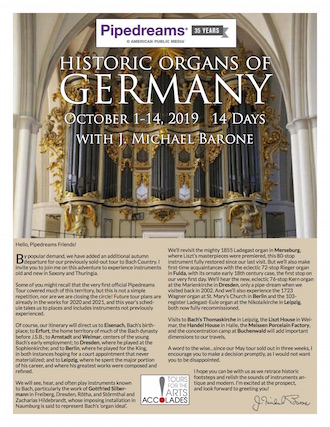 Germany Tour: Fall 2019
• Join our Germany Organ Tour: Fall 2019 Facebook group to see photos from the recent tour, as well as day-by-day commentary from Michael Barone.
• For an in depth look at our tour brochure, check here!
• Click here for our complete, detailed tour booklet, with information about churches and instruments.
• Click here for a list of all the organs we will see on our tour.
• Should you be curious about future PIPEDREAMS tours, get on our mailing list to receive more information or contact Janet Tollund at Group Travel Directors (jtollund@gtd.org)
Hello, Pipedreams friends!
Welcome aboard for another adventure! Should I have been surprised that a tour in Bach Country would be so popular? After all, the music of Johann Sebastian Bach is at the very heart of the western classical music experience; nothing could be better. Bach's compositions sparked the Baroque Revival, and Bach's organ works were a motivational force at the beginnings of the Organ Reform movement. And what aspiring performer has not hoped for the day that he or she could tackle the infamous D-minor Toccata, or...after much practice...be able to wrap their fingers and feet around one of the Trio Sonatas?
The Bach Repertoire, in its manifold glories, provides continuous pleasure, while the search for the 'perfect Bach organ' remains a challenge. We wonder whether any instrument available to him at any of his places of employment truly met his standards. The relatively modest organs of Arnstadt or Weimar could not hold a candle to the huge instruments to which Bach was exposed during visits to Lübeck and Hamburg. The organ he knew at the Thomaskirche (now long gone) was nothing to write home about, and it is clear that Bach disagreed with some of the qualities of organs made by his colleague, the great Saxon builder Gottfried Silbermann. We do know that Bach approved of the work of Silbermann's star pupil, Zacharias Hildebrandt, and in recent years the reconstructed Hildebrandt organ in Naumburg has emerged as representative of the 'Bach ideal'.
But does not Bach embrace the universal? Can his imaginative scores be made to make a profound impression through any imaginable sound-source? Likely you will come to your own conclusions through experiences we will share together. And remember that this is not only Bach Country, but also territory known to Handel and Liszt, Pachelbel and Krebs, Walther and Wagner, and Martin Luther, too.
I trust we'll all have a wonderful time, making many memories. Again, welcome aboard!
Michael Barone