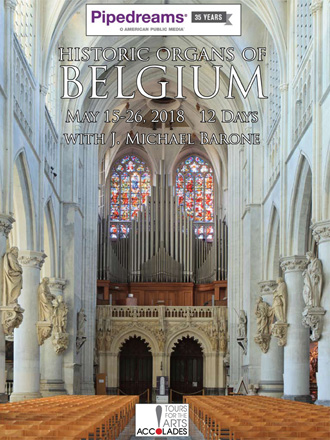 Click here for the full online tour booklet!
Pipedreams Friends:
Welcome aboard for another exciting adventure...amidst the history and traditions of organ music in Belgium, one of the Low Countries with a present-day high profile as a founding member of the European Union, seat of the European Parliament, and headquarters of NATO.
Though we tend to be distracted by the music of surrounding nations - France, Germany, and the Netherlands - Belgium has always been a prosperous and cosmopolitan center of commerce and culture, and certainly holds its own as regards important musical personalities and significant Belgian influences that have colored the evolution of western European music from the early Renaissance forward.
Early Baroque Flemish virtuoso Peeter Cor- net was considered one of the finest keyboard composers of his day. And Charles Auguste de Bériot developed an influential Belgian School of violin playing in the 19th century, a style furthered by Henri Vieuxtemps and Eugene Ysaye, and manifest in our time by the artistry of Arthur Grumiaux.
A very influential figure on the 19th century organ scene was Belgian-born composer and critic François-Joseph Fétis. Author of the com- prehensive Biographie universelle des musicians, Fétis taught at the Paris Conservatory and later was director of the Royal Conservatory in Brussels where Jacques-Nicolas Lemmens was his protégé. Their promotion of the music of Bach (and the use of the organ pedals in German manner) would transform the conscious- ness and careers of budding Parisian virtuosos Alexandre Guilmant and Chalres-Marie Widor, who studied with Lemmens in Brussels.
Remember that their older contemporary, César Franck, whose compositions would forever change the soul of French romantic organ, was born in Liège, as was Joseph Jongen, composer of a monumental Symphonie Concertante for organ and orchestra that is, in some minds, a work at least equal, if not superior, to the much more-often-heard Organ Symphony by Saint- Saëns. And we Americans are well aware of the work of Belgium's foremost touring virtuoso of the late 20th century, Flor Peeters, long- time organist at the Cathedral of Mechelen. But lesser known organist-composers from Belgium, such as Abraham van den Kerck- hoven, Lambert Chaumont, Joseph Callaerts, Edgar Tinel, and August de Boeck, also are worth exploring.
We'll visit both the Dutch-speaking Flemish and French-speaking Walloon regions, and experience instruments from five centuries by Goltfusz, Goynaut, Picard, Van Peteghem, Korfmacher, Van Bever, Schyven, and Loncke, with a visit to the atelier of André Thomas included.
Despite inevitable external influences, the Belgian organ culture has its own personality, and I invite you to discover it with me. Sign up now!
For an in depth look at our tour brochure, check here!
Click here for our complete, detailed tour booklet, with information about churches and instruments.
Click here for a list of all the organs we will see on our tour.
To see photos and read updates from the tour, join our Belgium Organ Tour Facebook Group!

Should you be curious about future PIPEDREAMS tours, get on our mailing list to receive more information or contact Janet Tollund at Group Travel Directors (jtollund@gtd.org)
We look forward to traveling with you.
Michael Barone