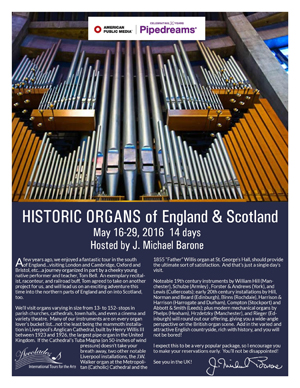 Click here for the full online tour book!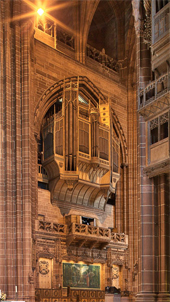 1926 Willis at Liverpool Anglican Cathedral
Pipedreams Friends:
Since 2002, jolly zealots from the PIPEDREAMS audience have ventured abroad annually as part of a tour group in search of intriguing sights and sounds. Past seasons have taken us to Germany, the Netherlands, France, England (southern), Austria, Quebec Province, Italy and Mexico. You can research our tour history here.
In 2016, we will explore the northern half of England and some of Scotland, too. We're putting finishing touches on our official release notice, but here are the basics:
Depart USA on Monday, May 16, return Sunday, May 29. Our itinerary will take us to Liverpool (with England's largest pipe organ at the Anglican Cathedral), Manchester, Salford, Westhoughton, Huddersfield, Leeds, Preston, Blackburn, Rochdale, Chorley, Stockport, Lancaster, Ormskirk, York, Harrogate, Ripon, Durham, Newcastle, Hexham, Gateshead, Edinburgh, Dunblane, and Glasgow. As you can see, the variety is extensive, with instruments or all sizes from the 17th through 21st centuries.

For an in depth look at our itinerary, check here!

Our musical leader, Tom Bell, was the congenial host to our previous visit to England. He's one fine chap, keen on railroads in addition pipe organs, and plays well, too.
Should you be curious, get on our mailing list to receive more information when all details are finalized. Or contact Janet Tollund at Group Travel Directors (jtollund@gtd.org)
We look forward to traveling with you.
Michael Barone