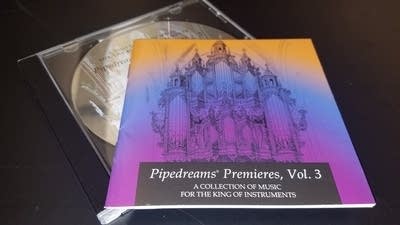 Henry Martin: Preludes and Fugues for Organ
Pipedreams Friends:
I have been curious about all kinds of classical music since childhood, and am always looking around the corner for unexpected surprises. Some years ago, I came across a recording by David (now Sara Davis) Buechner of a set of 12 preludes and fugues for piano by Henry Martin. At that point I knew nothing about Henry Martin beyond what the CD booklet revealed. His compositions, obviously inspired by Bach and infused with the spirit of jazz, proved intriguing, kind of like taking the Swingle Sisters or the Jacques Loussier Trio's jazzed-up reading of Bach to the next level. I then realized that Henry himself had recorded a companion album of the remaining 12 preludes and fugues, thus creating a thoroughly modern revisioning of Bach's Well-Tempered Clavier idea.
Since Martin's style was totally appealing – cogent, concise, contrapuntally savvy, listener-friendly and definitely of our time – I thought it might make a good addition to the organ's repertoire. I emailed Henry, who confessed that, beyond an arrangement of one of those piano pieces, he had not previously written for pipe organ. I shared this news with Ken Cowan, who I knew was interested in good new repertoire. In those days, Ken taught at Westminster Choir College and was in relative geographic proximity to Henry in New York City. I hoped that the two might get together and share ideas, with Ken providing some cluews as to how best to write for organ (or not).
Henry and I had talked about a possible commission, but nothing had been specifically agreed upon. However, several months after our first communication, an email from Henry included his first prelude and fugue for the organ! Excited, I sent it along to Ken for scrutiny, and he learned it sufficiently to test-play it for me several months later. We both agreed that Henry was onto something, and we emailed him our shared enthusiasm, after which I committed to an ongoing commission from Pipedreams.
Cowan premiered the first two of Martin's Preludes and Fugues at the 2008 American Guild of Organists Convention in Minnesota during the 25th anniversary season of Pipedreams, and he later premiered the third and fourth pieces in a concert at the Riverside Church in New York City. We were off and running!
Henry kept writing, and other performers were lined up to premiere subsequent scores. Isabelle Demers and Stephen Tharp each accepted responsibility for four pieces, thus covering the music contained in his first book, and a variety of others have been involved in the remaining works: David Cream, Jonathan Gregoire, Christopher Houlihan, Adam Brakel, Nathan Laube and Michael Unger.
With Unger's premiere of the final two of Martin's Preludes and Fugues at the 2018 AGO Convention in Kansas City, a decade-long journey with the cycle will be complete; but that, of course, is only the beginning. New music needs a life beyond its premiere performance. Fortunately, other players have been picking up these pieces, and my hope is that, despite their significant technical challenges, they will become regular facets of the 21st century American repertoire.
Note that, contrary to tradition, the pieces have not been dedicated by the composer. Henry kindly provided the opportunity to dedicate the works to people important to their initial presentation, but also people important to me in my musical upbringing.
Michael Barone
---
Click here if you are interested in optaining scores to Henry's excellent compositions.
For more information on Pipedreams Premieres, Vol. 3, please contact us.