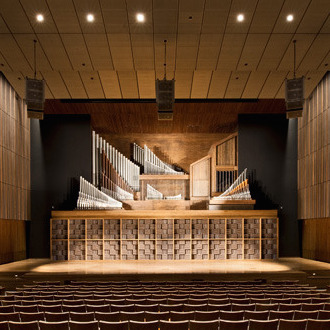 1971 Holtkamp/Museum of Art, Cleveland, OH
It's Greek to Me
…these works on classical Greek themes remind us that it was a Greek engineer, Ctesibius, who invented the pipe organ more than 2300 years ago!
Listen to the program
1 hr 58 Min
59:00 Min
59:00 Min
For the convenience of those of you with mobile devices, now you can listen to our PIPEDREAMS audio at http://www.yourclassical.org!
Program Broadcast dates:
Links and Resources:
Music played in the program
Hour 1
J-B LULLY: March, fr Alceste —Michel Chapuis (1710 Clicquot/Versailles Palace Chapel, France) Palace Versailles 004
JEAN-PHILIPPE RAMEAU (trans. Rechsteiner): Ballet excerpts (Sarabande, fr Zoroastre; Air tendre, fr Dardanus; Tambourin, fr Les Fete d'Hébé) –Henri-Charles Caget, percussion; Yves Rechsteiner (1741 Moucherel-1754 Lepine/Church of the Nativity of the Virgin, Cintegabelle, France) Alpha 650
FRANZ LISZT (trans. Gottschalg): Prometheus –Thomas Trotter (1977 Klais/Minster/Ingolstadt, Germany) Argo 430244
LOUIS VIERNE: Naiades, Op. 55, no. 4 –George Baker (1890 Cavaillé-Coll/Abbey of St. Ouen, Rouen, France) Solstice 917
PAMELA DECKER: Kairos –Pamela Decker (1965 Flentrop/St. Mark's Cathedral, Seattle, WA) Loft 1076
HUBERT PARRY: Bridal March, fr Aristophanes' The Birds –Douglas Major (Skinner/National Cathedral, Washington, DC) Gothic 18828
Filler – RAMEAU Tamborin (see above)
Hour 2
GEORGES ATHANASIADÈS: Suite for Organ (1981) –Georges Athanasiadès (1950 Kuhn/Basilica, St. Maurice, Switzerland) Tudor 7130
MONICA HOUGHTON: Erebus –Karel Paukert (1971 Holtkamp/Museum of Art, Cleveland, OH) Azica 71229
RALPH VAUGHAN WILLIAMS: The Wasps Overture –David Briggs (1912 Walker-2010 Mander/Sacred Heart Church, Wimbledon, England) Albion 21/22
JEAN GUILLOU: Icarus –Jean Guillou (1880 Merklin-1966 Gonzalez/Church of St. Eustache, Paris, France) Philips 446644
JACQUES OFFENBACH: Orpheus in the Underworld —Ahreum Han (1971 Reuter/1st Presbyterian Church, Davenport, IA) Pipedreams Archive (r. 6/21/17) or Raven 148
MAURICE RAVEL (trans. Idenstam): Daybreak, fr Daphnis et Chloe –Gunnar Idenstam (1912 Stalhuth-2002 Jann/St. Martin's Church, Dudelange, Luxembourg) BIS 2049
Filler – PARRY Bridal March (see above)

Continuing support of PIPEDREAMS is provided in loving memory of Wesley and Lucinda Dudley by their family, with additional support from Walter McCarthy, Clara Ueland, and the Greystone Foundation, by Jan Kirchner on behalf of her family foundation, by the Art and Martha Kaemmer Fund of the HRK Foundation, in celebration of the life of Martha Hulings Kaemmer, and by listener-contributors to this public radio station. Additional support comes from Muller Pipe Organ Company of Croton, OH, and Patrick J. Murphy & Associates, Inc. of Stowe, PA, members of APOBA, the Associated Pipe Organ Builders of America, a collaborative of designers, creators, and maintainers of pipe organs found in religious and educational institutions, concert halls, and residences throughout the United States and beyond. An APOBA resource guide and member prospectus is available at APOBA.COM.