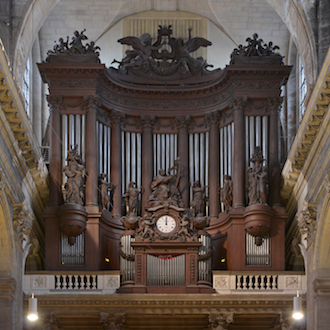 1862 Cavaillé-Coll/St. Sulpice, Paris
Seventh Heaven
…for the seventh day of the seventh month, scores by Widor, Rheinberger and Guilmant offer players and listeners a rainbow of tonal possibility!
Listen to the program
1 hr 58 Min
59:00 Min
59:00 Min
For the convenience of those of you with mobile devices, now you can listen to our PIPEDREAMS audio at http://www.yourclassical.org!
Program Broadcast dates:
Links and Resources:
Music played in the program
Hour 1
EDWARD SHIPPEN BARNES: Esquisse, fr Seven Sketches, Op. 34 –Adam Pajan (2004 Kegg/Basilica of St. John the Baptist, Canton, OH) Raven 149
CHARLES-MARIE WIDOR: Organ Symphony No. 7, Op. 42, no. 3 (each of the work's six movements is played by a different artist on a different instrument):
Moderato(i.) –Christian Schmitt (1890 Cavaillé-Coll/St, Ouen Abbey, Rouen) cpo 777 678
Choral(ii.) –Pierre Pincemaille (1845 Cavaillé-Coll/La Madeleine, Paris) Solstice 183
Andante/Allegretto (iii) –Christoph Maria Moosmann (2007 Späth/St. Georg Church, Riedlingen) Col Legno 20101
Allegro non troppo(iv.) –Jeremy David Tarrant (2013 Casavant/1st Presbyterian Church, Kirkwood, MO) Raven 146
Lento(v.) –Angela Kraft Cross (1880 Cavaillé-Coll/St. François-de-Sales, Lyon) Compass 7126
Finale (vi.) –Daniel Roth (1862 Cavaillé-Coll/St. Sulpice, Paris) Fugue State 10
FILLER – WIDOR Moderato 1st movement (see above)
Hour 2
JOSEF RHEINBERGER: Sonata No. 7 in f, Op. 127
Allegro (i.) –E. Power Biggs (Steinmeyer/Deutsches Museum, Munich) Columbia ML 5199 (LP)
Andante (ii.) –Rudolf Innig (1888 Walcker/Stadtkirche, Winterthur, Switzerland) MD&G 317 0894
Finale, Grave-Fuga (iii.) –Bruce Stevens (1868 Hook/Christ Church, Charlottesville, VA) Raven 993

ALEXANDRE GUILMANT: Sonata No. 7 in F, Op. 89
Entrée (i.) & Lento assai (ii.) –Joris Verdin (1900 Willis/St. Patrick's Cathedral, Dundalk, Ireland) Ricercar 267
Intermezzo (iii.) & Grand Choeur (iv.) –George Lartigau (1883 Puget/Saint Amans, Rodez) EMA 9514
Cantabile (v.) & Final (vi.) –Ben van Oosten (1890 Cavaillé-Coll/St. Ouen, Rouen) MD&G 316 0340
FILLER – WIDOR Finale 6th movement (cpo 777 678)

Continuing support of PIPEDREAMS is provided in memory of Wesley C. Dudley by his family, with additional support from Walter McCarthy, Clara Ueland, and the Greystone Foundation, by Jan Kirchner on behalf of her family foundation, by the Art and Martha Kaemmer Fund of the HRK Foundation, in celebration of the life of Martha Hulings Kaemmer, and by listener-contributors to this public radio station. Additional support comes from Randall Dyer & Associates, Inc. of Jefferson City, TN, and C. B. Fisk, Inc. of Gloucester, MA, members of APOBA, the Associated Pipe Organ Builders of America, a collaborative of designers, creators, and maintainers of pipe organs found in religious and educational institutions, concert halls, and residences throughout the United States and beyond. An APOBA resource guide and member prospectus is available at APOBA.COM.