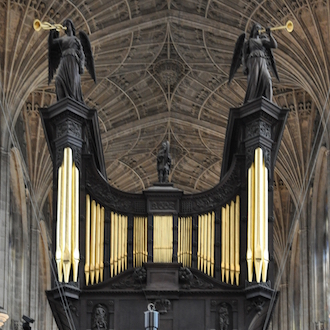 1968-2016 Harrison/King's College Chapel, Cambridge, England
For the Morning of Easter
…the resurrection theme has inspired composers across many generations.
Listen to the program
1 hr 58 Min
59:00 Min
59:00 Min
For the convenience of those of you with mobile devices, now you can listen to our PIPEDREAMS audio at http://www.yourclassical.org!
Program Broadcast dates:
Links and Resources:
Music played in the program
Hour 1
TRADITIONAL: Hymn, Jesus Christ is risen today –William Neil (1969 Aeolian-Skinner/National Presbyterian Church, Washington, DC) MSR Classics 1165
JOHANNES BUCHNER - SETHUS CALVISIUS - ANONYMOUS: Christ ist erstanden Verses –Veit Heller, bells; Daniel Beilschmidt (2015 Metzler/University Church St. Paul, Leipzig, Germany) Genuin 17453
J. S. BACH: 3 Orgelbüchlein Easter Preludes (Jesus Christus, unser Heiland, BWV 626; Erschienen ist der herrliche Tag, BWV 629; Erstanden ist der heil'ge Christ, BWV 628) –Wolfgang Rübsam (1976 Flentrop/Duke University Chapel, Durham, NC) Naxos 8.553032
BOB CHILCOTT: Thy arising –Lincoln Cathedral Choir/Aric Prentice; Jeffrey Makinson (1898 Willis/Lincoln Cathedral, England) Regent 532
JOSEPH GUY ROPARTZ: Offertoire Pascal –Markus Eichenlaub (1898 Cavaillé-Coll/Santa Maria la Real Church, Azkoitia, Spain) Aeolus 10391
RALPH VAUGHAN WILLIAMS: Easter, fr 5 Mystical Songs –Hugo Popplewell, baritone; Clare College Choir/Graham Ross; Matthew Jorysz (1995 Marcussen/Tonbridge School, Kent, England) Harmonia Mundi 907655
PIERRE COGEN: Offrande for Easter –Olivier Penin (1859 Cavaillé-Coll+2005 Dargassies/Basilica St. Clothilde, Paris, France) Festivo 6962432
TRADITIONAL (arr. Cherwien): Now the green blade riseth –National Lutheran Choir/David Cherwien (2002 Reuter/St. Michael's Lutheran Church, Bloomington, MN) NLC 1922
NORBERTO GUINALDO: Eternal Praises, fr 6 Contemplations of the Pascal Lamb –Norberto Guinaldo (1963 Reuter/United Methodist Church, Garden Grove, CA) Guinaldo 2014
Filler – ANONYMOUS (see above)
Hour 2
J. S. BACH: Heut' triumphiret Gottes Sohn, BWV 630 –Stephen Cleobury (1968-2016 Harrison/King's College Chapel, Cambridge, England) KKC 020
JEAN TITELOUZE: Ad Coenam Verses –Les Chantres du Roy; Yves-G. Préfontain (1699 Tribout/Church of St. Martin, Seurre, France) ATMA 2558
CHARLES TOURNEMIRE: Dominica Resurrectionis, Op. 56, no. 17, fr L'orgue mystique –Vincent Boucher (2006 Casavant/Guardian Angels Church, Lachine, Quebec, Canada) ATMA 2740
PATRICK HADLEY: My beloved spake –Exeter Cathedral Choir/Timothy Nolan; Timothy Parsons (2014 Harrison/Exeter Cathedral, England) Regent 524
GERRE HANCOCK: Holy Week (Palm Sunday-Maundy Thursday-Easter Day) –Todd Wilson & Kevin Kwan (1969 Adams-2005 Mann & Trupiano/St. Thomas Church, New York, NY) Raven 951
Filler – TRADITIONAL (see above)

Continuing support of PIPEDREAMS is provided in memory of Wesley C. Dudley by his family, with additional support from Walter McCarthy, Clara Ueland, and the Greystone Foundation, by Jan Kirchner on behalf of her family foundation, by the Art and Martha Kaemmer Fund of the HRK Foundation, in celebration of the life of Martha Hulings Kaemmer, and by listener-contributors to this public radio station. Additional support comes from Intergrated Organ Technologies, Inc. of Roswell, GA, and Kegg Pipe Organ Builders of Hartville, OH, members of APOBA, the Associated Pipe Organ Builders of America, a collaborative of designers, creators, and maintainers of pipe organs found in religious and educational institutions, concert halls, and residences throughout the United States and beyond. An APOBA resource guide and member prospectus is available at APOBA.COM.