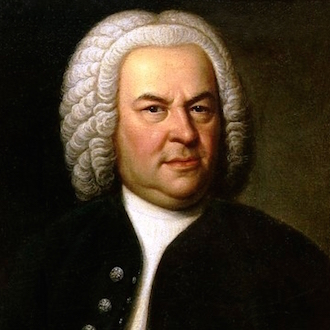 Johann Sebastian Bach (1685 - 1750)
Out Bach
…performance styles over the years have changed, but the genius of J. S. B. remains a constant.
Listen to the program
1 hr 58 Min
59:00 Min
59:00 Min
For the convenience of those of you with mobile devices, now you can listen to our PIPEDREAMS audio at http://www.yourclassical.org!
Program Broadcast dates:
Links and Resources:
Music played in the program
Hour 1
BACH: Prelude & Fugue in g, BWV 535 –Hans Otto (1714 G. Silbermann/Freiberg Cathedral, Germany) Denon 7004
BACH: Prelude in e, BWV 533 –Albert Schweitzer (1931 Kern/Parish Church, Gunsbach, Alsace) Archipel 0141
BACH: Prelude & Fugue in e, BWV 533 –E. Power Biggs (1958 Flentrop/Busch Hall, Harvard University, Cambridge, MA) CBS 42657
BACH: Prelude & Fugue in e, BWV 533 –Gustav Leonhardt (1645 Hegerbeer-1723 F. C. Schnitger/Laurenakerk, Alkmaar, Netherlands) Deutsche Harmonia Mundi 7868
BACH (ed. Straube): Prelude & Fugue in A, BWV 536 –Dean Billmeyer (1904 Sauer/Michaelskirche, Leipzig, Germany) Rondeau 614546
**BACH: Partita, O Gott, du frommer Gott, BWV 767 –Arthur Poister (1950 Holtkamp/Setnor Auditorium, Crouse Hall, Syracuse University, NY) Westminster WST 14131 (LP)
BACH (trans. De Jong): Chorus, Bringet dem Herrn Ehre seines Namens, BWV 148 –Euwe and Sybolt de Jong (1721 F.C. Schnitger/Michaelskerk, Zwolle, Netherlands) DeJong 7
Filler – BACH: Partita BWV 767 (see above)
Hour 2
PETER PLANYAVSKY: Toccata Reloaded (after BWV 565) –Peter Planyavsky (2003 Rieger/Parish Church, Lockenhaus, Austria) Organ Promotion 8004
BACH: Prelude & Fugue in f, BWV 534 –Anthony Newman (1981 Rieger/Recital Hall, State University of NY-Purchase) Newport Classic 60001
BACH: Trio Sonata No. 6 in G, BWV 530 –Helmut Walcha (1645 Hagerbeer-1723 F. C. Schnitger/Laurenakerk, Alkmaar, Netherlands) DG 477 6508
BACH (attrib.): Preludes and Fugues in G/g, BWV 557/558 –Simon Preston (1983 Klais/St. John's Smith Square, London, England) DG 449 212
BACH: Nun freut euch, lieben Christen, BWV 734a –Ewald Kooiman (1709 A. Silbermann/St. Etienne Abbey, Marmoutier, France) Aeolus 10761
BACH: Toccata & Fugue in F, BWV 540 –Jean Guillou (1988 Kleuker-Steinmeyer/Tonhalle, Zurich, Switzerland) Dorian 90151
Filler – BACH BWV 535 (see above)
**Note that the Westfield Center for Early Keyboard Studies is sponsoring a conference at Syracuse University (March 29-31, 2019) — Syracuse Legacies — focusing on the historic Holtkamp instruments on campus and their reason-for-being, Professor Arthur Poister.

Continuing support of PIPEDREAMS is provided in memory of Wesley C. Dudley by his family, with additional support from Walter McCarthy, Clara Ueland, and the Greystone Foundation, by Jan Kirchner on behalf of her family foundation, by the Art and Martha Kaemmer Fund of the HRK Foundation, in celebration of the life of Martha Hulings Kaemmer, and by listener-contributors to this public radio station. Additional support comes from Dobson Pipe Organ Builders of Lake City, IA, and Randall Dyer & Associates, Inc. of Jefferson City, TN, members of APOBA, the Associated Pipe Organ Builders of America, a collaborative of designers, creators, and maintainers of pipe organs found in religious and educational institutions, concert halls, and residences throughout the United States and beyond. An APOBA resource guide and member prospectus is available at APOBA.COM.