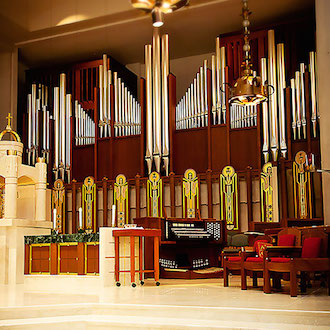 2013 Dyer/Cathedral of Christ the King, Lexington, KY
Pipe Organs Alive
…concert performances from near and far keep the King of Instruments in the spotlight.
Listen to the program
1 hr 58 Min
59:00 Min
59:00 Min
For the convenience of those of you with mobile devices, now you can listen to our PIPEDREAMS audio at http://www.yourclassical.org!
Program Broadcast dates:
Links and Resources:
Music played in the program
Hour 1
DIETERICH BUXTEHUDE: Toccata in d, BuxWV 155 –Craig Cramer (2001 Lively-Fulcher/St. Olaf Catholic Church, Minneapolis, MN) PD Archive (r. 4/28/12)
HEALEY WILLAN: Prelude on Slane –Schuyler Robinson (2013 Dyer/Christ the King Cathedral, Lexington, KY) PD Archive (r. 5/14/17)
WILLIAM WALTON (trans. Winpenny): Spitfire Prelude & Fugue –Yun Kyong Kim (2013 Dyer/Cathedral of Christ the King, Lexington, KY) PD Archive (r. 5/8/15)
MAURICE DURUFLÉ: Scherzo, Op. 2. OLIVIER MESSIAEN: Meditation No. 6, fr Meditations on the Mysteries of the Holy Trinity –Glenn Tucker (1927 Skinner-1955 Aeolian-Skinner/Hill Auditorium, University of Michigan, Ann Arbor, MI) PD Archive (r. 11/19/13)
AARON DAVID MILLER: Fantasy on Lobe den Herren –Bradley Hunter Welch (2001 Dyer/Church Street United Methodist Church, Knoxville, TN) PD Archive (r. 2/3/15)
Filler – SIGFRID KARG-ELERT: Mach hoch die Tür, Op. 65, no. 6 (Yun Kyong Kim, 5/18/15, see above)
Hour 2
WALTER PELZ: A Festive Intrada –Melanie Ohnstad. GABRIEL FAURÉ: Mi-a-ou, fr Dolly Suite –Timothy Strand (1998 Hendrickson/Wayzata Community Church, Wayzata, MN) PD Archive (r. 3/11/12)
ERIC STEWART: Adagio & Toccata –Felix Hell (1996 Holtkamp/Griswold Hall, Peabody Institute, Baltimore, MD) PD Archive (r. 2012)
JOSEF RHEINBERGER: Introduction & Passacaglia, fr Sonata No. 8 in e, Op. 132 –Jens Korndörfer (1904 Sauer/Cathedral Church, Berlin, Germany) PD Archive (r. 8/4/17)
WILLIAM BOLCOM: Just as I am, fr Gospel Preludes, Book 1. MARCEL DUPRÉ: Cortege & Litany –Joshua Ring (2016 Klais/Voxman Organ Hall, University of Iowa, Iowa City, IA) PD Archive (r. 7/18/18)
TONI ZAHNBRECHER: Introduction, Scherzo & Fugue on B-E-A-T-E –Craig Cramer (2001 Lively-Fulcher/St. Olaf Catholic Church, Minneapolis, MN) PD Archive (r. 4/28/12)
Filler – PELZ (see above)
Recording engineers included David L. Ball, Michael Hughes, the Audio Services Departments of the Universities of Michigan and Iowa, and Michael Barone.

Continuing support of PIPEDREAMS is provided in memory of Wesley C. Dudley by his family, with additional support from Walter McCarthy, Clara Ueland, and the Greystone Foundation, by Jan Kirchner on behalf of her family foundation, by the Art and Martha Kaemmer Fund of the HRK Foundation, in celebration of the life of Martha Hulings Kaemmer, and by listener-contributors to this public radio station. Additional support comes from Parkey Organ Builders of Duluth, GA, and Parsons Pipe Organ Builders of Canandaigua, NY, members of APOBA, the Associated Pipe Organ Builders of America, a collaborative of designers, creators, and maintainers of pipe organs found in religious and educational institutions, concert halls, and residences throughout the United States and beyond. An APOBA resource guide and member prospectus is available at APOBA.COM.