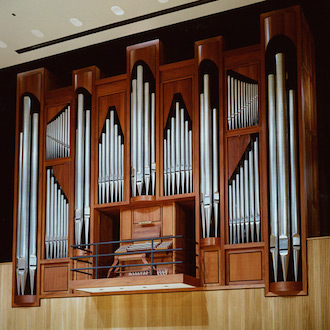 1990 Fisk/Slee Hall, University of New York-Buffalo
Organ Plus
…a colorful collection of compositions involving the pipe organ with other instrumentalists.
Listen to the program
1 hr 58 Min
59:00 Min
59:00 Min
For the convenience of those of you with mobile devices, now you can listen to our PIPEDREAMS audio at http://www.yourclassical.org!
Program Broadcast dates:
Links and Resources:
Music played in the program
Hour 1
JAMES MATTERN: Fanfare and Flourish –Chicago Brass Quintet; Paul Vander Weele (1963 Casavant/ North Shore Congregation Israel, Glencoe, IL) Centaur 2221
GUY ROPARTZ: Piece for Trombone & Organ –Niels-Ole Bo Johansen, trombone; Ulrik Spang-Hanssen (1989 Oberlinger/St, Mary's Church, Hanau, Germany) Classico 122
CARL REINECKE (arr. Karjalainen): Adagio, fr Harp Concerto –Kirsi Kiviharju, harp; Kalevi Kiviniemi (2007 Paschen/Lutheran Church, Kerava, Finland) Forsius 001
NAJI HAKIM: Diptych–John Turner, recorder. HAKIM: Capriccio –Benedict Holland, violin; Simon Leach (1871 Hill/Church of the Holy Name of Jesus, Manchester, England) Métier 28583
J. S. BACH: Arioso –Lewis Wong, violin; Chelsea Chen (2004 Garland/Bentwood Trail Presbyterian Church, Dallas, TX) Con Brio 21141
DAVID BRIGGS: Variations on Veni Creator –Elizabeth & Raymond Chenault (1942 Aeolian-Skinner/St. Andrew's Episcopal Church, Amarillo, TX) Gothic 49292
Filler – HAKIM: Diptych (see above)
Hour 2
ANTONIO SOLER: Double Concerto No. 1 in C –Daniel Pinkham (1785 Hess) & E. Power Biggs (1958 Flentrop/Busch-Reisinger Museum, Cambridge, MA) Columbia MS-6208
ANONYMOUS: Sinfonia for 2 Trumpets –Edward Tarr & Niklas Eklund, trumpets; Irmtraud Krüger (1581 Romani/St. Niccolo Church, Florence, Italy) Christophorus 77145
ROB DEEMER: Smoke for Clarinet & Organ –Andrew Seigel, clarinet; Ji Hyun Woo (1990 Fisk/Slee Hall, University of New York-Buffalo) Emeritus 20113
BACH: Christus, der uns selig macht, BWV 747 –Svyati Duo-Rebecca Hewes, cello; Julian Collings (2001 Jones/Rugby School Chapel, Rugby, England) Regent 364
RICHARD BARTMUSS: Organ Concerto No. 1 in E-flat, Op. 25 –Capriccio Orchestra/Dominik Kiefer; Ulrich Meldau (1988 Kleucker-Steinmeyer/Tonhalle, Zurich, Switzerland) Motette 40311
Filler – ROPARTZ (see above)
It's interesting to read the story behind the decision to replace the Kleucker-Steinmeyer organ in the Tonhalle, the petition to retain it, and the subsequent process to relocate it to the Cathedral in Koper, Slovenia.

Continuing support of PIPEDREAMS is provided in memory of Wesley C. Dudley by his family, with additional support from Walter McCarthy, Clara Ueland, and the Greystone Foundation, by Jan Kirchner on behalf of her family foundation, by the Art and Martha Kaemmer Fund of the HRK Foundation, in celebration of the life of Martha Hulings Kaemmer, and by listener-contributors to this public radio station. Additional support comes from Létourneau Organ Technologies, Inc. of Roswell, GA and Muller Pipe Organ Company of Croton, OH, members of APOBA, the Associated Pipe Organ Builders of America, a collaborative of designers, creators, and maintainers of pipe organs found in religious and educational institutions, concert halls, and residences throughout the United States and beyond. An APOBA resource guide and member prospectus is available at APOBA.COM.