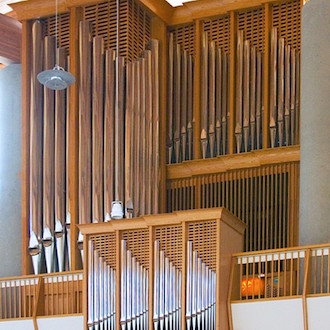 2001 Martin Ott/Atonement Lutheran Church, Kansas City, MO
To End All Wars (I)
…music made in time of war, in reflection on war, and in commemoration of the centenary of the November 11, 1918 Armistice.
Listen to the program
1 hr 58 Min
59:00 Min
59:00 Min
For the convenience of those of you with mobile devices, now you can listen to our PIPEDREAMS audio at http://www.yourclassical.org!
Program Broadcast dates:
Links and Resources:
Music played in the program
Hour 1
GUSTAV HOLST (trans. Sykes): Mars, the Bringer of War, fr The Planets –Peter Sykes (1933 Skinner/Girard College Chapel, Philadelphia, PA) Raven 380
ALAN GRAY: The Dead fr 1914 –Truro Cathedral Choir/Christopher Gray, director; Luke Bond (1887 Willis/Truro Cathedral, England) Regent 451
EMMA LOU DIEMER: Remembering (premiere) –Chelsea Chen (2012 Casavant/Helzberg Hall, Kauffman Center, Kansas City, MO) (r. 7/4/18)
FRANK FERKO: Cartes postales de la guerre (premiere) –Julia Scozzafava, mezzo-soprano. EDWARD ELGAR (trans. Grace): Solemn Prelude in Memoriam, fr For the Fallen, Op. 80 –Benjamin Sheen (1960 Aeolian-Skinner; 1993 Quimby/St. Andrew's Episcopal Church, Kansas City, MO) (r. 7/5/18)
JAMES MacMILLAN: Everyone Sang (premiere) –Spire Chamber Ensemble/Ben Spaulding; Jan Craybill (Casavant/Helzberg Hall) (r. 7/2/18)
Filler – ELGAR (see above)
Hour 2
"The Road Home"…honoring the contributions and sacrifices of millions of soldiers and civilians who lost their lives in World War One, this commemorative collaboration was presented during the 2018 National Convention of the American Guild of Organists. Musical selections include:
AARON COPLAND: Preamble for a Solemn Occasion. STEPHEN PAULUS: The Road Home. COPLAND: The Promise of Living. MARIE RUBIS BAUER: In our day of thanksgiving. PAULUS: Pilgrim's Hymn, fr The Three Hermits –Don Saliers, Michael Bauer, Stephanie Spalding, readers; Te Deum Chamber Choir/Joshua Maize, conductor; Elisa Bickers & Jan Kraybill, piano, Andrew Stadler, trumpet; Emily Foltz, oboe; Ben Justis, percussion; Lara West & Michael Bauer (2001 Martin Ott/Atonement Lutheran Church, Kansas City, MO) (r. 7/6/2018)
Filler – SÉVERAC: Élégie héroique

Continuing support of PIPEDREAMS is provided in memory of Wesley C. Dudley by his family, with additional support from Walter McCarthy, Clara Ueland, and the Greystone Foundation, by Jan Kirchner on behalf of her family foundation, by the Art and Martha Kaemmer Fund of the HRK Foundation, in celebration of the life of Martha Hulings Kaemmer, and by listener-contributors to this public radio station. Additional support comes from Taylor & Boody, Organbuilders of Staunton, VA, and A. Thompson-Allen Company of New Haven, CT, members of APOBA, the Associated Pipe Organ Builders of America, a collaborative of designers, creators, and maintainers of pipe organs found in religious and educational institutions, concert halls, and residences throughout the United States and beyond. An APOBA resource guide and member prospectus is available at APOBA.COM.