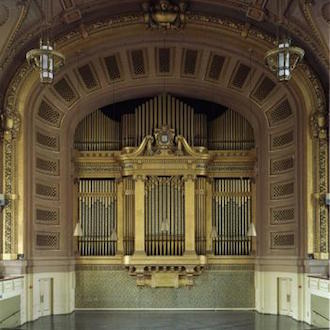 1928 Skinner/Woolsey Hall, Yale University, New Haven, CT
In the Fullness of Sound
…a collection of expansive and expressive works that blend organ with orchestra.
Listen to the program
1 hr 58 Min
59:00 Min
59:00 Min
For the convenience of those of you with mobile devices, now you can listen to our PIPEDREAMS audio at http://www.yourclassical.org!
Program Broadcast dates:
Links and Resources:
Music played in the program
Hour 1
ROBERT SIROTA: In the fullness of time —Oberlin Orchestra/Paul Polivnick; David Boe (2001 Fisk/Finney Chapel, Oberlin, OH) Pipedreams Archive (r. 9/28/01)
JOHN GARDNER: Chamber Concerto for Organ and 10 Players, Op. 102 —Holst Orchestra/Chris Gardner; Stephen King (1993 Daniel/Brentwood Cathedral, England) EM Records 009
MOLLY JOYCE: Over and Under —Yale Philharmonia/David Yi; Weston Jennings (1928 Skinner/Woolsey Hall, Yale University, New Haven, CT) Pipedreams Archive (r. 12/6/16; premiere on YouTube)
DANIEL ROTH: La Joie, fr Licht im Dunkel —NW German Philharmonie/Emmanuel Plasson; Christian Schmitt (2004 Kuhn/Philharmonic Hall, Essen, Germany) Organ Promotion 8003
FILLER - GARDNER
Hour 2
MICHEL CORRETTE: Organ Concerto No. 4 in C —Baroque Ensemble of Nice/Gilbert Bezzina; René Saorgin (1791 Grinda/Church of St. Peter-in-Chains, Escarène, France) Harmonia Mundi 1905148
JACQUES LENOT: Celestial Jerusalem —Les Siècles/François-Xavier Roth; Vincent Warnier (1956 Beuchet-Debierre/St. Etienne-du-Mont, Paris, France) Intrada 028
ENRICO BOSSI: Organ Concerto in a, Op. 100 —Heidelberg Philharmonic/Thomas Kalb; Martin Haselböck (1903 Voit & Sons/City Hall Auditorium, Heidelberg, Germany) NCA 9612826
FILLER - SIROTA
You would be amazed at the number of mostly rarely-heard orchestral works in which the organ is involved (check this list!), and might enjoy some other previous Pipedreams programs featuring such works:

PIPEDREAMS is supported by the generosity of Mr. & Mrs. Wesley C. Dudley, by grants from Walter McCarthy, Clara Ueland, and the Greystone Foundation, the Art and Martha Kaemmer Fund of the HRK Foundation, and Jan Kirchner on behalf of her family foundation. Additional support comes from Buzard Pipe Organ Builders of Champaign, IL, and Casavant Frères, Ltd. of Saint-Hyacinthe, Quebec, members of APOBA, the Associated Pipe Organ Builders of America, a collaborative of designers, creators, and maintainers of pipe organs found in religious and educational institutions, concert halls, and residences throughout the United States and beyond. An APOBA resource guide and member prospectus is available at APOBA.COM.