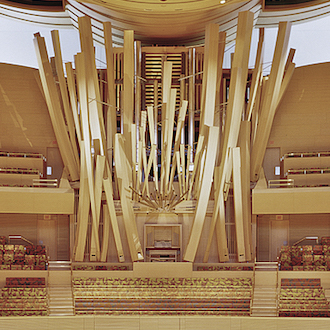 2004 Glatter-Götz-Rosales/Walt Disney Concert Hall, Los Angeles, CA
Variety Pack
…a good theme in a set of variations provides organists and composers exceptional opportunities to explore the tonal resources of any instrument.
Listen to the program
1 hr 58 Min
59:00 Min
59:00 Min
For the convenience of those of you with mobile devices, now you can listen to our PIPEDREAMS audio at http://www.yourclassical.org!
Program Broadcast dates:
Links and Resources:
Music played in the program
Hour 1
JAN PIETERSZOON SWEELINCK: Variations on Poolse almande –Charles Tompkins (1987 Van Daalen/St. Michael's Lutheran Church, Roseville, MN) VLS 007
PETER PLANYAVSKY: Partita sopra Cantio Oenipontana –Johannes Wenk (1986 Pirchner/St. Augustine Church, Perchtoldsdorf, Austria) Motette 13531
SIETZE de VRIES: Improvised Variations on Psalm 136 –Sietze de Vries (1712 Schnitger/ Pelstergasthuiskerk, Groningen, Netherlands) Boeijenga Music Publications
ANDRÉ ISOIR: Variations on a Huguenot Psalm, Op. 1 –Phillip Kloeckner (1997 Fisk-Rosales/Rice University, Houston, TX) Raven 935
CHARLES CALLAHAN: Partita on Adeste fidelis (selections) –Charles Callahan (1992 Heritage/All Saints Church, Buffalo, NY) Pro Organo 2231
DAVID BRIGGS: Variations on Nicaea –Daryl Robinson (2004 Glatter-Götz-Rosales/Walt Disney Concert Hall, Los Angeles, CA) Gothic 49315
Hour 2
BERNARDO PASQUINI: Variazioni per il Paggio Todesco —Francesco de Lernia (1792 Callido/St. Andrea Apostolo, Venzone, Italy) Tactus 550004
GERARD BUNK: Introduction, Variations and Fugue on an Old Netherlands Folksong, Op. 31 –Hans Uwe Hielscher (1982 Oberlinger/Market Church, Wiesbaden, Germany) Organ 7204
MAX REGER: Variations & Fugue on an Original Theme, Op. 73 —Heinz Wunderlich (1980 Tzschöckel/St. Michael Church, Schwäbisch Hall, Germany) Signum 28

PIPEDREAMS is supported by the generosity of Mr. & Mrs. Wesley C. Dudley, by grants from Walter McCarthy, Clara Ueland, and the Greystone Foundation, the Art and Martha Kaemmer Fund of the HRK Foundation, and Jan Kirchner on behalf of her family foundation. Additional support comes from Quimby Pipe Organs, Inc. of Warrensburg, MO, and Schoenstein & Company Pipe Organ Builders of Benecia, CA, members of APOBA, the Associated Pipe Organ Builders of America, a collaborative of designers, creators, and maintainers of pipe organs found in religious and educational institutions, concert halls, and residences throughout the United States and beyond. An APOBA resource guide and member prospectus is available at APOBA.COM.