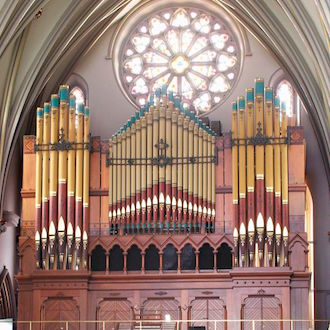 1876 Hook/St. Joseph's Cathedral, Buffalo, NY
Music of the Night
…whether in a poetic vision or an emotional sensibility, regardless of the time of day, sometimes a nocturnal impression provides exactly the right mood.
Listen to the program
1 hr 58 Min
59:00 Min
59:00 Min
For the convenience of those of you with mobile devices, now you can listen to our PIPEDREAMS audio at http://www.yourclassical.org!
Program Broadcast dates:
Links and Resources:
Music played in the program
Hour 1
W. A. MOZART: Eine kleine Nachtmusik (Allegro), K. 525 –Thomas Heywood (1876 Hook/St. Joseph's Cathedral, Buffalo, NY) Pro Organo 7167
MARCO ENRICO BOSSI: Chant du soir, Op. 92 –Martin Haselböck (1903 Voit/City Hall Auditorium, Heidelberg, Germany) NCA 96.12.826
JEROME KERN: The way you look tonight. GENE DePAUL: Teach me tonight –M.B. Gordy, drums; Dan Bellomy (Wurlitzer/Trousdale Studio, Santa Ana, CA) Beldale 1986
VINCENT YOUMANS: Orchids in the moonlight –Bob Salisbury (1929 Page/Avalon Theatre, Avalon, CA) SCI 62093
STEPHEN MICHAEL GRYC: Evensong –Joel Treybig, trumpet; Andrew Risinger (1969 Aeolian-Skinner/Belmont University, Nashville, TN) Curvepoint Media 1733300
JOHN McCABE: Nocturne –Marilyn Biery (1925 Skinner & 1963 Aeolian-Skinner/Cathedral of Saint Paul, St. Paul, MN) Pipedreams Archive (r. 10/17/99)
ANDREW LLOYD WEBBER: Music of the Night, fr Phantom of the Opera –Charlie Balogh (Wurlitzer/Organ Stop Pizza, Mesa, AZ) ERB 106
MOZART: Eine kleine Nachtmusik (Romanze; Menuetto; Rondo), K. 525 –Thomas Heywood (1876 Hook/St. Joseph's Cathedral, Buffalo, NY) Pro Organo 7167
Hour 2
ANGE LORENZO & RICHARD WHITING: Sleepy Time Gal —Ron Rhode (Moeller/Rylander Theatre, Americus, GA) ATOS 2013
MONTAGUE EWING: Moonlight on the Ganges —Jim Riggs (Wurlitzer/Paramount Theatre, Seattle, WA) ATOS 2010
STAN JONES: Ghost Riders in the Sky –Tony Fenelon, piano; Lyn Larsen (Wurlitzer/Paramount Music Palace, Indianapolis, IN) Pipedreams Archive (r. 5/14/1990)
ALFRED NEWMAN: Through a long and sleepless night –Bill Vlasak (Wurlitzer/Indianapolis, IN) WJVCD-105
JEROME KERN: The night was made for love –George Wright (Hollywood Philharmonic Organ/Wright Studio, Pasadena, CA) Banda 3322
EDWIN H. LEMARE: Nocturne in b –Graham Barber (1878 Lewis/Ripon Cathedral, England) Priory CD-769
HUBERT PARRY: Eventide, fr 7 Chorale Preludes –Stephen Cleobury (1968 Harrison/King's College Chapel, Cambridge, England) KGS 0004
SIGFRID KARG-ELERT: Pastels from the Lake of Constance, Op. 96 (No. 6, The mirrored moon; No. 7, Hymn to the stars) –Hans Fagius (1928 Frobenius/Aarhus Cathedral, Denmark) BIS 1084
IRVING BERLIN: Got the sun in the morning and the moon at night, fr Annie, Get Your Gun –Lyn Larsen (1929 Wurlitzer/Plummer Auditorium, Fullerton, CA) Beldale 421
LEONARD BERNSTEIN: Tonight, fr West Side Story –Tom Hazleton (Wurlitzer/Nethercutt Collection, San Sylmar, CA) Pro Arte 434
If you love music for the theatre organ, you might be interested in the upcoming National Convention of the American Theatre Organ Society (in Pasadena, June 30 through July 3). Don't miss out on the fun!

PIPEDREAMS is supported by the generosity of Mr. & Mrs. Wesley C. Dudley, by grants from Walter McCarthy, Clara Ueland, and the Greystone Foundation, the Art and Martha Kaemmer Fund of the HRK Foundation, and Jan Kirchner on behalf of her family foundation. Additional support comes from C. B. Fisk, Inc. of Gloucester, MA, and Foley-Baker, Incorporated, of Tollund, CT, members of APOBA, the Associated Pipe Organ Builders of America, a collaborative of designers, creators, and maintainers of pipe organs found in religious and educational institutions, concert halls, and residences throughout the United States and beyond. An APOBA resource guide and member prospectus is available at APOBA.COM.