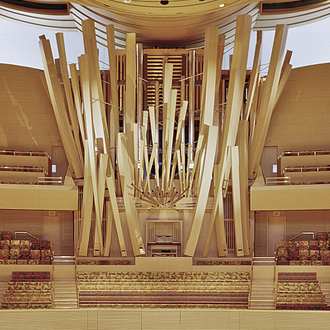 2004 Glatter-Götz & Rosales/Walt Disney Concert Hall, Los Angeles, CA

Going On Record
…another impromptu scan of some recently-received recordings showcasing the King of Instruments
Listen to the program
1 hr 58 Min
59:00 Min
59:00 Min
For the convenience of those of you with mobile devices, now you can listen to our PIPEDREAMS audio at http://www.yourclassical.org!
Program Broadcast dates:
Links and Resources:
Music played in the program
Hour 1
WILLIAM HENRY HARRIS: Flourish for an Occasion –Adam Pajan (2004 Kegg/Basilica of St. John the Baptist, Canton, OH) Raven 149
J. S. BACH: Prelude & Fugue in G, BWV 550 –Peter Kofler (2011 Rieger/St. Michael's Church, Munich, Germany) IFO Classics 231
BACH: Prelude & Fugue in g, BWV 535a –Benjamin Alard (1718 Andreas Silbrmann/St. Aurelie Church, Strasbourg) Harmonia Mundi 902450/2
KIT DOWNES: 2 Pieces (Seeing Things & Black is the colour) –Kit Downes (1877 Willis/Union Chapel, London; 2001 Bumstead/St. John's Bapist Church, Snape, England) ECM 2559
CHARLES TOURNEMIRE: Cantilene Improvisée –Raymond Chenault (2003 Buzard/All Saints' Episcopal Church, Atlanta, GA) Gothic 49305
DOMENICO SCARLATTI: Sonata in d, K. 52 & Sonata in F, K. 274 –Martin Schmeding (1762 Bosch/Church of Saint Andreu, Santanyi, Mayorca) Cybele 1404
P. I. TCHAIKOVSKY (trans. Lemare): Nocturne in c#, Op. 19, no. 4 –Jonathan Vaughn (1911 Harrison/St. Mary Redcliffe, Bristol, England) Regent 494
DMITRI SHOSTAKOVICH (arr. Cowan & Welch): Festive Overture –Ken Cowan & Bradley Welch (1996 Casavant/Broadway Baptist Church, Fort Worth, TX) Pro Organo 7275
FILLER – DOWNES: Seeing Things
Hour 2
GEORGE BAKER: Rumba –Luke Hubley, Todd Sommer, Terry McKinney, & James Metcalfe, percussion; Daryl Robinson (2004 Glatter-Götz & Rosales/Walt Disney Concert Hall, Los Angeles, CA) Gothic 49315
CHARLES-MARIE WIDOR: Moderato, fr Symphony No. 7 in a, Op. 42, no. 3 –Jeremy David Tarrant (2013 Casavant/1st Presbyterian Church, Kirkwood, MS) Raven 146
FRANCIS POTT: Toccata on King's Lynn –Christian Wilson (1995 Marcussen/Chapel of St. Augustine, Tonbridge, England) Acis 67065
JACQUES IBERT: Fugue (iii.), fr Trois Pieces –Renée Anne Louprette (1993 Mander/St. Ignatius Loyola, New York, NY) Acis 1609
BERNHARD ZORN: Concert Fantasy on Ein feste Burg, Op. 14 –Bernhard Leonardy (1975 Klais-2000 Mayer/St. John's Basilica, Saarbrücken, Germany) IFO Classics 7262/3
PETER CORNELIUS: Vater unser, Op. 2, no. 1 –Kirstin Chávez, mezzo-soprano; Volker Ellenberger (1923 Kämmerer/St. Joseph's Chapel, Mainz, Germany) IFO Classics 555
GASTON LITAIZE: Prélude Liturgique No. 7 –Jeremy Filsell (1968 Aeolian-Skinner/Church of the Epiphany, Washington, DC) Raven 147
LOUIS VIERNE: Prélude Funebre, Op. 4 –Wolfgang Rübsam (1880 Cavaillé-Coll/St. François-de-Sales, Lyon, France) IFO Classics 7266
GUY BOVET: Hamburger Totentanz –Ahreum Han (1998 Casavant/1st Presbyterian Church, Iowa City, IA) Raven 148
FILLER – BAKER: Rumba

PIPEDREAMS is supported by the generosity of Mr. & Mrs. Wesley C. Dudley, by grants from Walter McCarthy, Clara Ueland, and the Greystone Foundation, the Art and Martha Kaemmer Fund of the HRK Foundation, and Jan Kirchner on behalf of her family foundation. Additional support comes from Berghaus Organ Company, Inc. of Bellwood, IL, and Bond Organ Builders, Inc. of Portland, OR, members of APOBA, the Associated Pipe Organ Builders of America, a collaborative of designers, creators, and maintainers of pipe organs found in religious and educational institutions, concert halls, and residences throughout the United States and beyond. An APOBA resource guide and member prospectus is available at APOBA.COM.