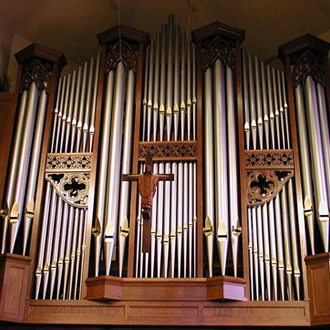 2012 Quimby/St. Paul's Episcopal Cathedral, San Diego, CA

Ladies, Be Good!
…across the centuries, women composers have shared their exceptional creativity.
Listen to the program
1 hr 58 Min
59:00 Min
59:00 Min
For the convenience of those of you with mobile devices, now you can listen to our PIPEDREAMS audio at http://www.yourclassical.org!
Program Broadcast dates:
Links and Resources:
Music played in the program
Hour 1
FANNY MENDELSSOHN: Prelude –Kimberly Marshall (1987 Rosales/Trinity Cathedral, Portland, OR) Loft 1021
BARBARA HARBACH: A Celebration of Hymns (Erre Gyere; Gloria; Vater unser; Darwall's 148th) –Barbara Harbach (1965 Aeolian-Skinner/Christ Church Cathedral, Saint Louis, MO) MSR 1254
TRADITIONAL (arr. Shtegman): Nåjden –Yana Mangi, voice; Tobias Broström, percussion; Kristina Shtegman (1987 Grönlund/Parish Church, Jokkmokk, Sweden) JFCD 16-1
ANNA VON HAUSSWOLFF: Goodbye –Anna von Hausswolff, voice & organ (1958 Hammarberg/Annedalkyrkan, Göteburg, Sweden) Other Music 006
FLORENCE PRICE: Festal March –Calvert Johnson (1972 Harrison/Christ Church, Savannah, GA) Calcante 14
ETHEL SMYTH: Schwing dich auf zu deinem Gott –Christa Rakich (1932 Kilgen/St. Justin Catholic Church, Hartford, CT) AFKA 527
EMMA LOU DIEMER: Psalm Interpretations (Nos. 18-126-130-123-29) –Joan DeVee Dixon (1991 Reuter/Munger Chapel, University of the Ozarks, Clarksville, AR) RBW 018
FILLER: DIEMER (#126)
A more comprehensive exploration of the music of Emma Lou Diemer is available in an archived PIPEDREAMS production (Emma Lou!, Program #1004), available for listening 24/7.
Hour 2
NANCY PLUMMER FAXON: Intermezzo –John Weaver (1920 Skinner/Old South Church, Boston, MA) Pipedreams 1001
CAROL WILLIAMS: Spreckels Centennial Fanfare, Op. 14 –Carol Williams (2012 Quimby/St. Paul's Episcopal Cathedral, San Diego, CA) Melcot 22
ESTER MÄGI: Dialog: Prelude with Choral –Frances Nobert (1998 Glatter-Götz & Rosales/United Church of Christ, Claremont, CA) Raven 550
ANGELA KRAFT CROSS: A Joyous Celebration (2009). KRAFT CROSS: Courage in a Time of Struggle (2011-12) –Angela Kraft Cross (2002 Dobson/Cathedral of Our Lady of Angels, Los Angeles, CA) Compass Audio 7201
ELFRIDA ANDRéE: Organ Symphony No. 1 in b (1891) –Kimberly Marshall, 1st mvt (1987 Rosales/Trimity Cathedral, Portland, OR) Loft 1021; Wolfgang Baumgratz, 2nd mvt (1894 Sauer/Bremen Cathedral, Germany) IFO 40; Ralph Gustafsson, 3rd & 4th mvts (1878-1927 åkerman & Lund/St. Mary Magdalene Church, Stockholm) Swedish Society 1085
FILLER: MENDELSSOHN

PIPEDREAMS is supported by the generosity of Mr. & Mrs. Wesley C. Dudley, by grants from Walter McCarthy, Clara Ueland, and the Greystone Foundation, the Art and Martha Kaemmer Fund of the HRK Foundation, and Jan Kirchner on behalf of her family foundation. Additional support comes from Andover Organ Company of Methuen, MA, and Bedient Pipe Organ Company of Roca, NE, members of APOBA, the Associated Pipe Organ Builders of America, a collaborative of designers, creators, and maintainers of pipe organs found in religious and educational institutions, concert halls, and residences throughout the United States and beyond. An APOBA resource guide and member prospectus is available at APOBA.COM.