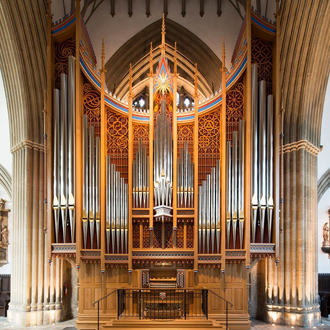 2014 Dobson/Merton College, Oxford, England

To Rise and Shine
…celebrations and reflections for the Easter season.
Listen to the program
1 hr 58 Min
59:00 Min
59:00 Min
For the convenience of those of you with mobile devices, now you can listen to our PIPEDREAMS audio at http://www.yourclassical.org!
Program Broadcast dates:
Links and Resources:
Music played in the program
Hour 1
SIETZE de VRIES: Overture on Christ lag in Todesbanden –Sietze de Vries (1962 Ahrend & Brunzema/St. Martini Church, Bremen, Germany) JSB 151017
JOHANN PACHELBEL: Jesus Christus, unser Heiland (2 verses) –James David Christie (1738 Eilert-Köhler/Kreuzkirche, Suhl, Germany) cpo 777 556
CHARLES TOURNEMIRE: Rapsodie Sacrée, fr Suite for Easter, Op. 56, no. 8, fr L'Orgue Mystique (No. 19) –Tjeerd van der Ploeg (1922 Mutin/St. Peter Church, Douai, France) VLS 03/0495
TRADITIONAL (Norwegian): I see you now, sweet Lamb of God –Anne-Lise Berntsen, mezzo-soprano; Nils Henrik Asheim (1787 Holzhey/Weissenau Abbey, Germany) Kirkelig Kulturverksted 136
CHARLES-MARIE WIDOR: Surrexit a mortuis –Bristol Cathedral Choir/Mark Lee, director; Paul Walton (1907 Walker/Bristol Cathedral, England) Regent 514
WIDOR: Final, fr Symphonie Romane, Op. 73 –Pierre Pincemaille (1889 Cavaillé-Coll/St. Sernin Basilica, Toulouse, France) Solsltice 185
PIERRE COCHEREAU: Haes dies –John Scott Whiteley (York Minster, England) Priory DVD 2
Hour 2
JEAN LANGLAIS: Mors et Resurrectio –Frederick Hohman (2016 Reuter/Immaculate Conception Cathedral, Springfield, IL) Pro Organo 7280
CHARLES TOURNEMIRE: Fantasy-Improvisation, Victimae Paschali laudes –Angela Kraft Cross (1885 Cavaillé-Coll/Notre Dame d'Auteuil, Paris, France) Compass 7124
FRANCIS POTT: Christus (finale) –Jeremy Filsell (1993 Jones/St. Peter's Church, Eaton Square, London, England) Signum 062
J. S. BACH: Jesus Christus, unser Heiland, BWV 665 –Bine Bryndorf (1741 Wagner/Trondheim Cathedral, Norway) Hänssler 92.097
GERALD FINZI: Lo, the full, final sacrifice –Merton College Choir/Benjamin Nicholas, director; Charles Warren (2014 Dobson/Merton College, Oxford, England) Delphian 34174
RYAN DODGE: Psalm 30 (For you have turned my mourning into dancing) –Michael Hey (1930 Kilgen/St. Patrick's Cathedral, New York, NY) JAV 199

PIPEDREAMS is supported by the generosity of Mr. & Mrs. Wesley C. Dudley, by grants from Walter McCarthy, Clara Ueland, and the Greystone Foundation, the Art and Martha Kaemmer Fund of the HRK Foundation, and Jan Kirchner on behalf of her family foundation. Additional support comes from Quimby Pipe Organs, Inc. of Warrensburg, MO, and Schoenstein & Company Pipe Organ Builders of Benecia, CA, members of APOBA, the Associated Pipe Organ Builders of America, a collaborative of designers, creators, and maintainers of pipe organs found in religious and educational institutions, concert halls, and residences throughout the United States and beyond. An APOBA resource guide and member prospectus is available at APOBA.COM.