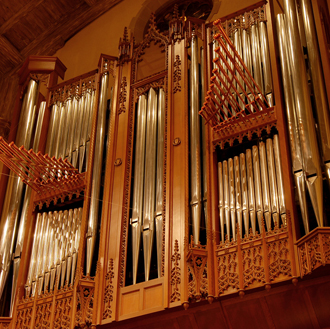 1981 Schantz at St. Paul's United Methodist Church, Houston, Texas.
Rising Stars
…young performers share their gifts at the 2016 National Convention of the American Guild of Organists in Houston, TX.
Listen to the program
1 hr 58 Min
59:00 Min
59:00 Min
For the convenience of those of you with mobile devices, now you can listen to our PIPEDREAMS audio at http://www.yourclassical.org!
Program Broadcast dates:
Links and Resources:
Music played in the program
Hour 1
MARCEL DUPRÉ: Prelude & Fugue in B, Op. 7, no. 1. AD WAMMES: Ride in a High-speed Train –Kirk Rich (2nd Prize)
GASTON LITAIZE: Scherzo, fr Douze Pieces. QI ZHANG: Symphony in a Teapot –Weicheng Zhao (3rd Prize)
MAX REGER: Trio-Scherzo in A, Op. 47, no. 4. SIGFRID KARG-ELERT: Vivace, fr Symphony in f#, Op. 143 –Zachary Zwahlen (finalist)
J. S. BACH: Allein Gott in der Höh sei Ehr, BWV 676. CHARLES TOURNEMIRE: Victimae paschali laudes –Katelyn Emerson (1st Prize)
Hour 2
VINCENT PAULET: Salve Regina (1991). CRAIG PHILLIPS: Rhapsody –Nicholas Cappozzoli (NYACOP finalist)
THOMAS DAHL: Improvisation –Thomas Dahl (1st Prize, NCOI)
MORGAN SIMMONS: Reflections for Oboe and Organ (1976) -Tamer Edlebi, oboe. THIERRY ESCAICH: Evocation III (2008). MARCEL DUPRÉ: Preludio, fr Symphony No. 2, Op. 26 –Katelyn Emerson (NYACOP 1st prize)
The majority of these performances were recorded during the final round of the 2016 AGO National Young Artist Competition in Organ Performance(r. 6/18/16) at St. Paul's United Methodist Church (1981 Schantz), though Thomas Dahl (winner of the National Competition in Organ Improvisation) played (r. 6/21/16) at Christ Church Cathedral (1938 Aeolian-Skinner).
As part of her AGO NYACOP prize, Ms. Emerson has recorded a compact disc ("Evocations") on the 1936 Aeolian-Skinner organ at Church of the Advent (Pro Organo 7277).
A series of Regional AGO Conventions are taking place across the USA this month and early July.
Enjoy these additional performances from St. Paul's UMC, Houston, by 2016 our AGO-NYACOP finalists:
Katelyn Emerson plays:
FRANK BRIDGE:

DIETERICH BUXTEHUDE:

Kirk Rich plays:
MAX REGER:

Weicheng Zhao plays:
LOUIS VIERNE:

MAX REGER:

Zachary Zwahlen plays:
JUDITH BINGHAM:

OLIVIER MESSIAEN:

Nicholas Capozzoli plays:
JOSEPH JONGEN: