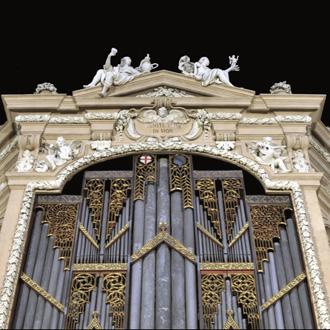 1475 da Prato at San Petronio Basilica, Bologna, Italy.
The Search Goes On
…an exploration of the many sorts of composition that you find under the generic, historic title "Ricercar".
Listen to the program
1 hr 58 Min
59:00 Min
59:00 Min
For the convenience of those of you with mobile devices, now you can listen to our PIPEDREAMS audio at http://www.yourclassical.org!
Program Broadcast dates:
Week of February 27, 2017
Links and Resources:
Music played in the program
Hour 1
JOCOPO FOGLIANO: 2 Ricercares –Francesco di Lernia (1533 Colombi/Corpus Christi Church, Valvasone, Italy) Tactus 550004
ANDREA GABRIELI: Ricercare on the 5th Tone –Imgemar Melchersson (1475 da Prato/San Petronio Basilica, Bologna, Italy) Christophorus 77141
GIROLAMO FRESCOBALDI: Recercar con obligo del basso come appare, fr Fiori Musicali –Andrea Marcon (1998 Zanin/Santa Caterina Auditorium, Treviso, Italy) Divox 79904
BERNARDO STORACE: Ricercar –Andrea Macron (1750 Nacchini/Santa Maria dei Battuti, Treviso, Italy) Divox 79405
JAN PIETERSZOON SWEELINCK: Ricercare –Vincent van Laar (1694 Grotian/Kreuzkirche, Pilsum, Germany) NM Classics 92119
SWEELINCK: Ricercar del nono tono, SwWV 280 –Léon Berben (1624 Scherer/St. Stephanus Church, Tangermuunde, Germany) Aeolus 11021
MICHAEL RADULESCU: Ricercari, Op. 28 (iii. Estampie) –Mari Fukumoto (1984 Marcussen/Masashino Civic Cultural Hall, Tokyo, Japan) Naxos 8.573155
J.S. BACH: Ricercar a 6 voci, fr Musical Offering, BWV 1079 –Gerhard Weinberger (1746 Hildebrandt/Wenzelkirche, Naumburg, Germany) cpo 777 018
Hour 2
CARSON COOMAN: Ricercare piccolo sopra un nome, Op. 845 –Erik Simmons (1737 Engler/Basilica Maria-Himmelfahrt, Krzeszow, Poland, via digital sample) Divine Art 21229
RADULESCU: Organa (i.), fr Ricercari –Pascale Rouet (1964 Kern/Notre-Dame-des-Blancs-Manteaux, Paris, France) Triton 331132
JOHN LAMBERT: Ricercare No. 2 –Timothy Bond (1998 Jehmlich/St. Wolfgang's Church, Schneeberg, Germany) Regent 252
JOHANN PACHELBEL: Ricercar in c –Joseph Payne (1995 Noack-Wegscheider/Christ the King Lutheran Church, Houston, TX) Centaur 2306
PACHELBEL: Ricercar in C –Antoine Bouchard (1964 Casavant/St. Pascal Church, Kamouraska, Quebec, Canada) Dorian 93197
GIAN CARLO MENOTTI: Ricercar (1984) –John Weaver (1933 Aeolian-Skinner/Grace Cathedral, San Francisco, CA) Pipedreams 1001
MICHAEL FERGUSON: Ricercar upon Three Ancient Chorales –Michael Ferguson (2007 Casavant/Nativity of Our Lord RC Church, Saint Paul, MN) Pipedreams Archive (r. 12/4/16)