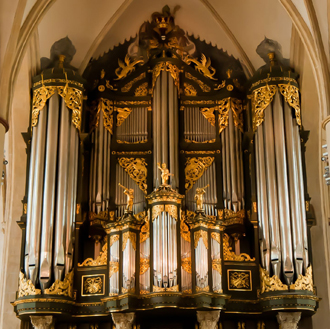 1691 Schnitger at the Martinikerk, Groningen, The Netherlands.
Follow the Star
…music for the Feast of Epiphany, celebrating the journey of the Wise Men and their celestial beacon.
Listen to the program
1 hr 58 Min
59:00 Min
59:00 Min
For the convenience of those of you with mobile devices, now you can listen to our PIPEDREAMS audio at http://www.yourclassical.org!
Program Broadcast dates:
Links and Resources:
Music played in the program
Hour 1
DIETERICH BUXTEHUDE: Fantasy, Wie schön leuchtet der Morgenstern –Marie-Claire Alain (1691 Schnitger/Martinikerk, Groningen, The Netherlands) Warner Classics 65179
ROBERT EDWARD SMITH: We three kings –Robert Gallagher (1995 Lively-Fulcher/Cathedral of St. Matthew, Washington, DC) World Library 3027
SAMUEL SCHEIDT: Variations on Wie schön leuchtet der Morgenstern, BuxWV 223 –Phillip Kloeckner (1997 Fisk-Rosales/Rice University, Houston, TX) Raven 935
MALCOLM WILLIAMSON: The Wise Men visit the Prince of Peace, fr Peace Pieces –Tom Winpenny (1963 Walker/St. John the Evangelist, London, England) Naxos 8.571375
THEODORE DUBOIS: March of the Magi –René Oberson (1992 Ayer-Morel/St. Laurence Church, Estavayer-le-Lac, Switzerland) Gall 700
PETER CORNELIUS: The Three Kings –Henry Hawkesworth, bass; Choir of King's College, Cambridge/Stephen Cleobury, director. KGS 0007
MAX REGER: Chorale-Fantasy, Wie schön leucht' uns der Morenstern, Op. 40, no. 1 –Isabelle Demers (1942 Aeolian-Skinner/St. Andrew's Episcopal Church, Amarillo, TX) Acis 01901
Hour 2
HUGO DISTLER: Wie schön leuchtet der Morgenstern, Op. 8, no. 3 –Armin Schoof (1637 Stellwagen/Jakobikirche, Lübeck, Germany) Thorofon 2293
HEINRICH REIMANN: Fantasy, Wie schön leuchtet der Morgenstern, Op. 25 –Szabó Balázs (1914 Kuhn/St. Anton Church, Zurich, Switzerland) MD&G 920 1945
CHARLES TOURNEMIRE: Suite for Epiphany, fr L'Orgue Mystique –André Marchal (1950 Holtkamp/Crouse College, Syracuse University, NY) Westminster 14130
NIELS WILHELM GADE: Wie schön leuchtet der Morgenstern. HEINRICH KAMINSKI: Toccata on Wie schön leuchtet der Morgenstern –Torsten Laux (1939-79 Steinmeyer/Speyer Cathedral, Germany) Organ 7009