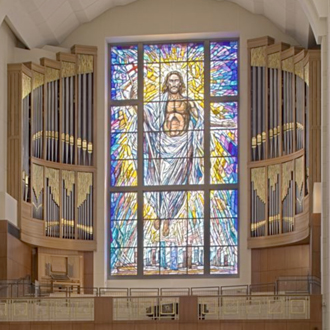 2010 Pasi at Sacred Heart Co-Cathedral, Houston, TX
An Organist's Yearbook
…the annual Olde Yeare-New Year reflection, with highlights from recent recordings, concert excerpts, prize-winning performances, memorial tributes, and more.
Listen to the program
1 hr 58 Min
59:00 Min
59:00 Min
For the convenience of those of you with mobile devices, now you can listen to our PIPEDREAMS audio at http://www.yourclassical.org!
Program Broadcast dates:
Week of December 26, 2016
Links and Resources:
Music played in the program
Hour 1
PHILIP MOORE: Magnificat –University Singers/Brady Knapp, conductor (1998 Schoenstein/University of St. Thomas, Houston, TX) Gothic 49303
FREDERICK HOHMAN: Festive Trumpet Voluntary in E (after Jeremiah Clarke) –Frederick Hohman (1954 Aeolian-Skinner/Cathedral of St. John the Divine, New York, NY) Pro Organo 7272
DMITRI SHOSTAKOVICH: Festive Overture –Ken Cowan & Bradley Hunter Welch (1996 Casavant/Broadway Baptist Church, Fort Worth, TX) Pro Organo 7275
LOUIS VIERNE: Naiades, Op. 55, no. 4 –Katelyn Emerson (1981 Schantz/St. Paul's United Methodist Church, Houston, TX) Pipedreams Archive (r. 6/18/16). Ms. Emerson took 1st Prize in the AGO Performance Competition.
KURT KNECHT: Current, fr Missouri Sonata –Wyatt Smith (1925 Skinner/Aalfs Auditorium, University of South Dakota, Vermillion, SD) Raven 989
DUKE ELLINGTON: Star-crossed lovers –Anders Paulsson, saxophone; Harry Huff (1975 Åkerman & Lund/Katarina Church, Stockholm, Sweden) LCM 117
CRAIG PHILLIPS: Tribute – A Lullaby –Jonathan Biggers (2006 Holtkamp/Boe Chapel, St. Olaf College, Northfield, MN) Pipedreams Archive (2/19/2016)
BACH: Vor deinen Thron tret ich, BWV 668 –André Isoir (1998 Westenfelder/Eglise Saint-Macre, Fere-en-Tardenois, France) A Dolce Volta 153.7
MICHAEL FERGUSON: Ricercar upon an Ancient Chorales (Nos. 3) –Michael Ferguson (2007 Casavant/Nativity of Our Lord RC Church, Saint Paul, MN) Pipedreams Archive (r. 12/4/16)
GUSTAV MAHLER (trans. Briggs): Veni, Creator Spiritus (excerpt), fr Symphony No. 8 –singers from the Oratorio Society of New York, Manhattan School of Music, and the Cathedral of St. John the Divine/Kent Tritle, conductor; David Briggs (1954 Aeolian-Skinner/Cathedral of St. John the Divine, New York, NY) Pro Organo 7276
Hour 2
PAUL CRESTON: Prayer, fr Suite, Op. 70 –Yuri McCoy (1998 Schoenstein/University of St. Thomas, Houston, TX) Gothic 49303 MAX REGER: Pastorale, Op. 59, no. 2 –Ulfert Smidt (2009 Goll/Marktkirche, Hannover, Germany) Rondeau 6131
ALEXANDRE GUILMANT: Marche-Fantasie, Op. 44, no. 3 –Saxon Wind Philharmonic/Thomas Clamor, conductor; Daniel Beilschmidt (1932 Jehmlich-2001 Reinhold/St Mary Cathedral, Wurzen, Germany) Genuin 254457
J.S. BACH: Preludes and Fugues in E/e, fr Well-tempered Clavier (BWV 854/855) –Daniele Boccaccio (2006 Zanin/Church of San Antonio Abate, Padua, Italy) Brilliant Classics 95157
HENRY MARTIN: Prelude & Fugue No. 16 in A-flat –Jonathan Gregoire (2003 Letourneau/St. Andrew United Methodist Church, Plano, TX) Pipedreams Archive (4. 2/18/16)
JOHN IRELAND: Anthem, Greater love hath no man –Choir of St. Thomas Church, New York City/Benjamin Sheen, director; Stephen Buzard (2010 Pasi/Sacred Heart Co-Cathedral, Houston, TX) Pipedreams Archive (r. 6/22/16)
RICHARD PURVIS: Carol Rhapsody –Jeremy Rush (1958 Aeolian-Skinner, restored by Casavant/United Methodist Church, Johns Creek, Georgia) Pipedreams Archive (r. 12/22/16)
MARCEL DUPRÉ: Resurrection, fr Symphonie-Passion, Op. 23 –Dean Billmeyer (1935 Aeolian-Skinner/Northrop Auditorium, University of Minnesota, Minneapolis, MN) Pipedreams Archive (r. 2/18/1992)
PHILIP MOORE: Nunc dimittis –University Singers/Brady Knapp, conductor (1998 Schoenstein/University of St. Thomas, Houston, TX) Gothic 49303