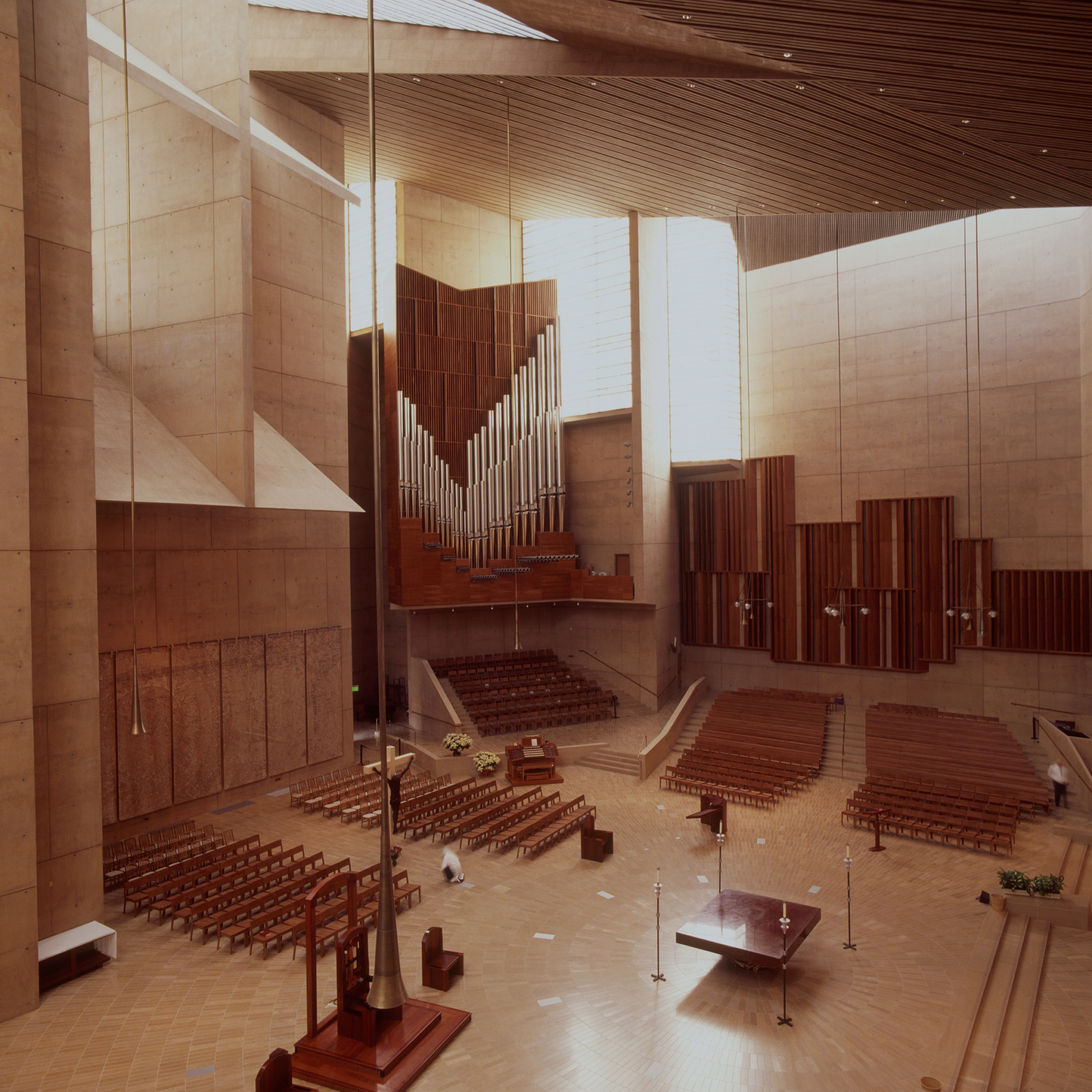 2003 Dobson at the Cathedral of Our Lady of the Angels, Los Angeles, CA.
A Seasonal Celebration
…whether in Michigan or New Mexico, Ely or Orleans, the music of Christmas resounds of peace and joy.
Listen to the program
For the convenience of those of you with mobile devices, now you can listen to our PIPEDREAMS audio at http://www.yourclassical.org!
Program Broadcast dates:
Week of December 12, 2016
Links and Resources:
Music played in the program
Hour 1
DAVID CONTE: Christmas Intrada. JAMES BIERY: Willie, take your little drum. ROBIN MILFORD: Pastorale Dance, On Christmas Night. KEITH CHAPMAN: Bring a torch, Jeanette, Isabella –Larry Visser (1996 Austin-Allen/LaGrave Avenue Christian Reformed Church, Grand Rapids, MI) Visser 2013
MILFORD: In dulci jubilo . ANDREW CARTER: Hodie Christus natus est –Cathedral Choir/Maxine Thevenot, director; Edmund Connolly (2002 Reuter/Cathedral of St. John, Albuquerque, NM) Raven 974
DAN LOCKLAIR: Angel Song –Sospiri/Christopher Watson, director; Jeremy Cole (2011 Tickell/Keble College Chapel, Oxford, England) Convivium 033
ALAN BULLARD: 2 Christmas Carols (A baby so small; A boy is born) –Selwyn College Choir/Sarah MacDonald, director; Timothy Parsons (Harrison/Ely Cathedral, England) Regent 456
CHARLES TOURNEMIRE: Introit (Puer natus est), fr L'Orgue Mystique, Op. 55. no. 3 –Georges Delvallee (1880 Cavaillé-Coll/Holy Cross Cathedral, Orleans, France) Accord 476 1059
FATHER JOSEPH WALTER: Choral diferencias & glosas on 'Puer natus in Bethlehem' (premiere)—Cathedral Schola; Cherry Rhodes (2003 Dobson/Cathedral of Our Lady of the Angels, Los Angeles, CA) Pipedreams Archive (r. 10/7/16)
Filler – CHAPMAN (see above)
Hour 2
GERALD NEAR: Carillon on a Ukrainian Bell Carol. PAUL EDWARDS: No small wonder. JOHN JOUBERT: All and some –Cathedral Choir/Jeremy Tarant, director; Richard Newman (1992 Pilzecker/St. Paul Cathedral, Detroit, MI) CCSP 2014
CARL RÜTTI: O little town of Bethlehem –Escorial Choir/Christopher Duarte, director; Carl Rütti (1950 Norman & Beard/Norwich Cathedral, England) Guild 7238
WILLIAM MATHIAS: A babe is born –Cantemus Chamber Choir/Huw Williams, director; Robert Court (1885 Hill/St. Augustine's Church, Penarth, Wales) Regent 466
THOMAS HEWITT JONES: Verbum caro factum est. DENIS BEDARD: Noël huron, fr Deux Noëls. BOB CHILCOTT: The night he was born. BEDARD: Toccata, Il est né le divin enfant, fr Deux Noëls –Tewkesbury Abbey Schola Cantorum/Simon Bell, director/Carleton Etherington (1997 Jones/Tewkesbury Abbey, England) Regent 440
ANDRÉ FLEURY: Variations on a Burgundian Noël -- Cherry Rhodes (2003 Dobson/Cathedral of Our Lady of the Angels, Los Angeles, CA) Pipedreams Archive (r. 10/7/16)
MACK WILBERG (arr.): Ding! Dong! merrily on high. JOHN RUTTER: Nativity Carol. JAMES PIERPONT (arr. Shephard): Jingle Bells –York Minster Choir/Robert Sharpe; David Pipe (1993 Walker/York Minster, England) Regent 467
Filler – CONTE (see above)