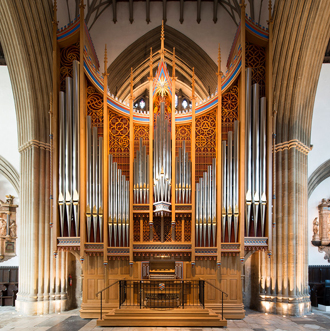 2013 Dobson at Merton College Chapel, Oxford, England.
The New Releases
…another sampler from among the remarkable influx of recently produced recordings, with music from five centuries.
Listen to the program
For the convenience of those of you with mobile devices, now you can listen to our PIPEDREAMS audio at http://www.yourclassical.org!
Program Broadcast dates:
Links and Resources:
Music played in the program
Hour 1
JOHANN CASPAR KERLL: Toccata No. 7. JOHANN JACOB FROBERGER: Canzona No 2, in g, FBWV 302 –Magdalena Hasibeder (1642 Wöckherl, Franciscan Church, Vienna, Austria) Raumklang 3503
JOHANN JACOB FROBERGER: Toccata No. 22 in C –Yannick Varlet (2010 Caill/Goulven Church, Brittany, France) Continuo 117
J.S. BACH: Canonic Variations, Vom Himmel hoch, BWV 769 (selections) –Maude Gratton (1737 Silbermann/Friedenskirche, Ponitz, Germany) Outhere Music 21
HERBERT HOWELLS: Master Tallis's Testament –David Heller (2009 Letourneau/Christ Church United Methodist, Louisville, KY) Raven 971
ARTHUR BIRD: Marsch der Aethiopier, Op. 42 –Arits Wodehouse (1916 Mason & Hamlin harmonium) Raven 962
CHARLES GOUNOD: O Salutaris –Christ Church Schola Cantorum/Stephen Kennedy, director; Joris Verdin (1885 Mustel harmonium) Loft 1126/27
BARBARA DENNERLEIN: Blues in the Pipeline –Barbara Dennerlein (2012 Woehl/Studio Acousticum, Piteå, Sweden) Bebab250977
JOHN SCOTT (arr.): Creator of the stars of night. CARL RÜTTI: I wonder as I wonder –St. John's College Choir/Andrew Methsingha, director; Joseph Wicks (1994 Mander/St. John's College Chapel, Cambridge, England) Signum 458
JOHN RUTTER: Psalm 150 –St. Albans Girls and Cathedral Choirs & Royal Philharmonic Orchestra/Andrew Lucas, director; Tom Winpenny (1963 Harrison/St. Albans Abbey, England) Naxos 8.573394
Filler – BACH (see above)
Hour 2
KAJ-ERIK GUSTAFSSON: Chorale-prelude, Arise, ye valleys. JACK MATTSSON: Joy –James Hicks (1965 Kangasala/St. Michael's Church, Turku, Finland) Pro Organo 7279
CHARLES-MARIE WIDOR: Allegro (iii.), fr Symphonie gothique (No. 9), Op. 70 –Joseph Nolan (1846 Cavaillé-Coll/La Madeleine, Paris) Signum 347
PIERRE de BRÉVILLE: Priere –Anne Robert, violin; Jacques Boucher (1815-1996 Casavant/Eglise St-Jean-Baptiste, Montréal, Quebec, Canada) SMD 271
VELI KUJALA: CybOrgan (Part 1) –Uusinta Ensemble; Veli Kujala, electronics; Susanne Kujala (1982 Kangasala/Leppävaara Church, Finland) Alba 393
YANA MANGI (arr. Shtegman): The Sun –Yana Mangi, voice; Tobbe Broström, percussion; Kristina Shtegman (1987 Grönlund/Jokkmokk Church, Sweden) Jokkmokk Parish 16
GIOVANNI TRABACI: Canzona No. 6 –Francesco Cera (1570 Anonymous/Church of Sant' Antonio, Salandra, Italy) Brilliant Classics 94897
GIOVANNI MORANDI: Post Communion in E –Marco Ruggeri (1791 Callido/Borca d Cadore, Italy) BrilliantClassics 95333
EDWARD ELGAR (trans. Lemare): Gavotte –Benjamin Nichols (2013 Dobson/Merton College Chapel, Oxford, England) Delphian 34162
EDVARD GRIEG (trans. Ellsasser): Gavotte, fr Holberg Suite, Op. 40 –Thomas Murray (1927 Skinner/Woolsey Hall, New Haven, CT) Delos 3525
EUGENE GIGOUT (arr. McIntosh): Grand Choeur Dialogué –Amalgam Brass Ensemble; Christopher Jacobson (1932 Aeolian/Duke University Chapel, Durham, NC) Pentatone 5186 577
Filler – RUTTER (see above)